Encouraging new students to become good citizens of the "Jayhawk Nation," Kansas University Chancellor Bernadette Gray-Little called on students to enjoy their upcoming year, but to accept certain responsibilities as well.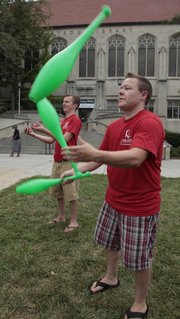 Speaking at the 145th Opening Convocation that kicks off the academic year, Gray-Little said that students have a responsibility to the classroom and to one another.
"All that is necessary for something tragic or life changing or even life ending to happen is for a good friend to do nothing," she said. "When something bad happens on this campus, all too often alcohol is involved. And all too often the tragedies that ensue — the accidents, the assaults, even the deaths — could have been avoided if a friend, a buddy, had stepped forward to help."
She also encouraged students to contribute to the university in their own ways.
"I encourage you to find ways to personalize and maximize your time at KU," she said. "And by 'maximize,' I don't mean spend seven years here instead of four."
The chancellor also gave a nod to the importance of faculty and staff members, saying how with every flower planted by a Facilities Operations employee, it makes it all the more likely that a prospective student would fall in love with the campus and make the decision to come to KU.
Gray-Little was joined by the deans and other campus leaders on the stage of the Lied Center, where the audience saw a video celebrating the campus' history and tradition.
Student Colleen Grusecki, a Chicago sophomore, said she appreciated hearing the alma mater again, and said she felt ready to get back in the groove of going to class.
"It's just good to be back in school, and to get the semester going," she said.
The audience also heard from KU's new provost, Jeff Vitter, who — in addition to asking for a recommendation for good Cajun food — highlighted the benefits of experiences like undergraduate research and study abroad.
"My advice to the students is to start planning this week for where you'll study abroad," Vitter said. "The perspectives you gain from study abroad can change your life."
Copyright 2017 The Lawrence Journal-World. All rights reserved. This material may not be published, broadcast, rewritten or redistributed. We strive to uphold our values for every story published.