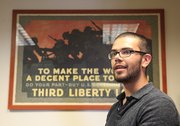 Extra Resources
For more information about VA benefits and other resources, go online to www.registrar.ku.edu and search for the Office of Veterans Services. The office is located in 151 Strong Hall.
Veterans can also contact Betty Childers, VA Certifying Official, at 864-4423 or at kuva@ku.edu.
To find eligibility requirements, procedural information and updates on policy changes visit the Department of Veteran Affairs at gibill.va.gov.
Other helpful resources can be found through contacting the following local VA groups:
• American Legion — www.legion.org/homepage.php
• Amvets — www.amvets.org
• Veterans of Foreign Wars — www.vfw.org/index.cfm
• Desert Veterans — www.desertvets.org
• Iraq and Afghanistan Veterans of America — iava.org
Adjusting from war zone to student life can be daunting for some veterans.
Jonathan Duncan, a senior from Newlin, recalls his transition. Whether it was from civilian students asking, "did you kill anyone?" or teachers probing, "are you pretty messed up?" or "are you OK?", Duncan had many curiosities and questions to confront.
"It was kind of a shell-shock for me," Duncan said. "I didn't feel like I was going to be able to relate to anyone."
Duncan said it was not that people were inconsiderate or mean, they just didn't understand. But, over time, questions were not such a shock and conversations ran smoother until eventually Duncan was just another student.
There are nearly 400 student veterans on Kansas University's campus. They are served by the KU Collegiate Veterans Association.
Duncan, the association's president, said his transition would not have been possible without the help he received. From advice and support to social events and friendships, the association provides a variety of services.
"Our No. 1 goal is to provide a community to help vets transition to civilian life," Duncan said. "It's a place they can come and feel comfortable and express themselves."
Aaron Razak, a recruiter for the organization, said he had no idea the group existed until someone saw his haircut and provided the information. Besides learning how to recommunicate, he said some of the most helpful advice to him dealt with finances.
Razak said a lot of veterans, especially transfer students, do not know about the grants and scholarships available to them. The group also provides assistance and information about the post 9/11 GI Bill, tuition assistance and other veteran benefits.
"We do what we can to advocate for veterans and make sure they have the money they need to go to school and live on," Razak said.
The group's size has continually increased since becoming a student organization in 2006, but the 30 to 50 active members are only a small fraction of the campus-wide veteran community.
Duncan said he hopes to reach out to some of those students this semester. He said veterans should know that transitioning is not something they have to do alone and that there are plenty of resources available.
"Vets helping vets is the key to success," Duncan said. "I wouldn't be in college if it weren't for this organization."
Copyright 2018 The Lawrence Journal-World. All rights reserved. This material may not be published, broadcast, rewritten or redistributed. We strive to uphold our values for every story published.