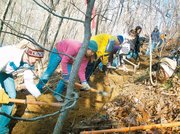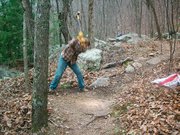 Every year, more than 200 Kansas University students choose to spend their vacations helping other people around the country through KU Alternative Breaks.
The program is in its 16th year, and plans are under way for service trips to Houston to help out with the Houston AIDS Foundation, to the Sonora Desert to assist No More Deaths and to Denver to work with an autism charity.
"We pick something new every year," says Stephanie Jian, a co-coordinator for Alternative Breaks. "This year we've had a lot of interest in sustainable agriculture. We're also looking into a music therapy site for music majors."
She adds that they're in talks with Lower Nine, an organization that assists the rebuilding process that is still ongoing in New Orleans in the wake of Hurricane Katrina five years ago.
Alternative Breaks finds students by giving presentations in class and by setting up a booth on Wescoe Beach. Students have to apply to attend one of the service trips and, depending on how many applicants there are, it can be quite competitive.
The application process usually includes an interview. Seven students are selected for each trip.
In addition to spring break, Alternative Breaks offers weekend service trips as well as summer and winter break trips. This year it's adding opportunities during fall break.
"We're looking at something in St. Louis, Omaha or Oklahoma City," says Whitney Bloom, co-director of Alternative Breaks. "Just to keep it local."
Students can take their service trips for credit, in which case they usually have to write a paper or a series of blog entries about their experience.
The trips are $275, which includes transportation to and from Lawrence, lodging and food.
"We manage to keep costs down because the organizations we work with usually provide housing," says Jian, who is a junior majoring in cognitive psychology and pre-optometry.
They're also trying to raise more money for the program. To do this, they've been reaching out to the program's alumni.
"A lot of them have gone on and been very successful," Jian says of the alumni.
The program is entirely student run. The leaders for the trips have gone on service vacations themselves.
Bloom, who is a senior and is majoring in civil engineering, has gone on three service trips. The first, her freshman year, was to Orlando, Fla., to help Give Kids the World, which works with children with life-threatening illnesses and their families. She also spent some time volunteering with the Newcomer Center in Chicago, which helps immigrant teens make the transition to American society. Then she spent a break cutting trails in the forests of Tennessee.
"No matter what you're doing," Bloom says, "whether it's helping the families of children with life-threatening illnesses or clearing a trail, people really appreciate it. It can have an impact."
Jian took her first trip during the spring of her freshman year and worked with the Houston AIDS Foundation. The next year she traveled to Detroit.
"The experience gives you a hands-on way to see the issues you read about," she says. "And you can see what organizations are doing about them."
Most of the students who participate in Alternative Breaks are undergraduates. Their majors run the gamut, from the humanities to the sciences to engineering and business
A service vacation can be life-changing, the leaders say.
"A lot of students have had powerful experiences," Jian says. "Some have had a real passion for the issues they've worked on and they've made it their career."
KU was one of the first universities in the country to establish an alternative break program.
"KU places a strong emphasis on service," Jian says. "And this program is a great way to do that."
Copyright 2018 The Lawrence Journal-World. All rights reserved. This material may not be published, broadcast, rewritten or redistributed. We strive to uphold our values for every story published.