Topeka — Sam Brownback's road map for his campaign bus tour better have more detail than his policy "Road Map for Kansas." If not, he'll be lost and asking for directions, Democrats say.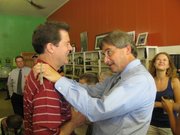 Brownback, the Republican gubernatorial candidate for governor, faces Democrat Tom Holland, a state senator from Baldwin City, in the Nov. 2 election.
Brownback unveiled his "Road Map" on Monday, outlining the broad "measurables" as the goals for his administration, if elected. He promised more detail as his four-day bus tour unfolded.
But so far, the details haven't been too detailed.
In Manhattan on Wednesday, he said his rural policy initiatives will be helping set up "free enterprise zones" in rural Kansas, and expanding broadband Internet in rural areas. "We have got to do a lot better in creating jobs in rural Kansas," Brownback said.
On the enterprise zones, he said he wanted local groups to come to the state with recommendations, and he added that he didn't want to expend any more state dollars.
As Democrats pointed out, there is nothing new here.
The Kansas Department of Commerce is already engaged in enterprise zones, and on the issue of expanding broadband access, Kansas is spending money on this endeavor — federal money that Brownback voted against as a U.S. senator.
The lack of detail is evident in other areas, too.
Brownback has repeatedly said the school finance formula is flawed and needs to be overhauled. Public school funding makes up more than half of the state budget, and the school finance formula is the product of years of political balancing and litigation.
But Brownback has repeatedly declined to point out where he thinks the school finance formula is flawed and how it needs to be overhauled.
Brownback says if elected he will put the Legislature on the task of reforming school finance rather than dictating what he would like to see done. "This isn't a one-person decision," he said.
Meanwhile, his Democratic opponent Holland will roll out some of his policy details on Tuesday. Holland's campaign notes that while Brownback has been in Washington the past 15 years, Holland has been in Kansas working on state issues in the Legislature.
"As governor, Tom Holland will create jobs by continuing to invest in education and workforce training," said his spokesman Seth Bundy. "Tom will carefully manage the budget so that public safety and our most vulnerable Kansans are never put in jeopardy. And Tom will continue to work in a bipartisan fashion to make government more efficient, transparent and responsive to Kansans," Bundy said.
Copyright 2018 The Lawrence Journal-World. All rights reserved. This material may not be published, broadcast, rewritten or redistributed. We strive to uphold our values for every story published.