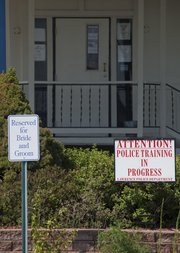 The Lawrence police recruits were entering the unknown — and had to be cautious.
Someone had possibly broken into a local bar in the middle of the night.
"Our objective was to clear a burglary alarm and ensure that there wasn't anyone inside," said Brian Riley, the recruit class president. "We were just using a two-man team to work our way through the building safely and secure the building."
Riley and recruit Frank McClelland on Thursday afternoon searched through a room that included a bar and pool table at the Knights of Columbus hall, 2206 E. 23rd St.
After identifying themselves as police officers, the two checked inside closets, behind the bar and inside adjacent rooms.
While one recruit searched, the other looked out for danger with his blue training pistol pointed out toward the rest of the room.
The nine recruits are getting trained on how to handle various police scenarios before they graduate in September.
"The biggest thing that goes through your mind is safety," said recruit Steven Lehwald. "The safety of you, safety of your partner and just to make sure you're checking everything out."
They started practicing building searches Wednesday. Officers say the searches can be a tense situation.
"You never know what you will find in a building. Someone could be running out the back door," said Sgt. Matt Sarna, a police spokesman.
The recruits say the exercises are helping prepare them to work as officers in Lawrence.
"It's just a building process," said Riley, who served in the Army since 1989. "It's just building on the foundation to get the tools to work with."
"Trust your partner and trust your training," said Lehwald, who went to law school at the University of Pittsburgh. "Trust the training they've provided you."
Copyright 2018 The Lawrence Journal-World. All rights reserved. This material may not be published, broadcast, rewritten or redistributed. We strive to uphold our values for every story published.