Watkins Glen, N.Y. — Juan Pablo Montoya erased 113 races of futility Sunday, winning a duel with Marcos Ambrose and the Sprint Cup race at Watkins Glen International.
Montoya, who started third, pulled away on a late restart from Ambrose, his biggest challenger all day, and beat Kurt Busch by 4.7 seconds in the 90-lap race around the 11-turn, 2.45-mile layout.
It was Montoya's second career victory, the other coming on NASCAR's other road course at Sonoma in 2007, 113 races ago. Ambrose was third, his third straight top-three finish at Watkins Glen, followed by AJ Allmendinger and polesitter Carl Edwards.
"It's about time," Montoya said. "We've lost a lot of them, gave away a lot of them. It gets frustrating, everybody fighting."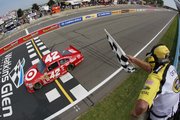 auto racing
Franchitti edges Power at Mid-Ohio
Lexington, Ohio — Dario Franchitti held off a hard-charging Will Power to win the IndyCar race at Mid-Ohio on Sunday.
The victory was Franchitti's second of the season. He won the Indy 500 in May.
Franchitti beat Power out of the pits twice in the race, giving him just enough room to beat Power by 0.5234 seconds, the third-closest road/street finish in series history.
The victory helped Franchitti trim Power's lead in the points standings to 41 with five races remaining.
Golf
Mahan wins; Tiger, Phil falter
Akron, Ohio — Hunter Mahan took a big step toward joining the elite in golf Sunday, winning his first World Golf Championship title to lock up a spot on the U.S. Ryder Cup team.
Tiger Woods will remain atop the world ranking for the 270th consecutive week, despite the worst tournament of his career. Woods closed with a 77 to finish at 18-over 298 — his highest score on the PGA Tour as a pro or an amateur — and finished one spot out of last place.
That cleared the way for Phil Mickelson to replace him at No. 1, provided Lefty finished in fourth place alone.
Mickelson was even worse. He shot 41 on the front nine, including a three-putt from 4 feet, and shot 78 to tie for 46th.
Frost shoots 61 to win 3M
Blaine, Minn. — David Frost jumped out fast Sunday with a brilliant front nine and finished with an 11-under 61 to earn a record-setting victory at the 3M Championship.
It was the first career Champions Tour win for Frost, whose 25-under 191 was two shots better than the previous tournament scoring record set by R.W. Eaks in 2008. His final-round score beat by one the tournament's previous lowest round set by Dana Quigley in 2008.
Lunde rallies at Turning Stone
Verona, N.Y. — Bill Lunde rallied with a 6-under 66 to finish at 17-under 271, holding off J.J. Henry by one stroke to win the Turning Stone Resort Championship.
tennis
Nalbandian takes Washington final
Washington — Argentina's David Nalbandian became the first player ranked outside the top 100 to win an ATP title in 2010, using his typically strong service returns and effective baseline game to beat No. 25 Marcos Baghdatis of Cyprus 6-2, 7-6 (4) on Sunday in a Legg Mason final between two past Grand Slam finalists.
Kuznetsova snares Carlsbad title
Carlsbad, Calif. — Unseeded Svetlana Kuznetsova squandered four match points before winning her first title in 10 months with a 6-4, 6-7 (7), 6-3 victory over No. 4 seed Agnieszka Radwanska of Poland in the Mercury Insurance Open finals on Sunday.
Kuznetsova effectively used her booming forehand early, but had to survive losing leads of 4-0 and 6-3 in the second-set tiebreak.
WNBA
Thompson becomes all-time leader
Los Angeles — Sparks forward Tina Thompson became the WNBA's all-time leading scorer Sunday night against the San Antonio Silver Stars.
Thompson surpassed Lisa Leslie, who retired last season after amasssing 6,263 points, by making a 16-foot jump shot in the third quarter.
She is the last of the original WNBA players.
NFL
Falcons' Jenkins out 4-6 weeks
Flowery Branch, Ga. — Atlanta Falcons wide receiver Michael Jenkins will miss four to six weeks due to a right shoulder injury.
Jenkins fell on the shoulder during the Falcons' scrimmage Friday at a local high school. He had stopped short of the 30-yard line and stepped upfield a couple of yards to try to catch the pass on quarterback Matt Ryan's play-action fake to running back Jason Snelling.
Raiders sign QB Brennan
Napa, Calif. — The Oakland Raiders signed free-agent quarterback Colt Brennan and could have the former Hawaii star on the field for Thursday's preseason opener at Dallas.
Brennan took a handful of snaps with the Raiders' second-team offense Sunday, completing four of six throws.
track and field
Gatlin wins 2nd race of comeback
Tallinn, Estonia — Justin Gatlin won his second 100-meter race in a week at the Ergo Games on Sunday during his low-key return to track after a four-year doping ban. The 28-year-old former Olympic champion finished in 10.17 seconds.
Gatlin won gold in the 100 at the 2004 Athens Olympics in 9.85, then tested positive in April 2006 for excessive testosterone at the Kansas Relays.
Copyright 2018 The Associated Press. All rights reserved. This material may not be published, broadcast, rewritten or redistributed. We strive to uphold our values for every story published.