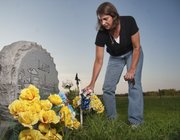 Overbrook — Roberta Peterson walks through ankle-high grass at Rock Creek Cemetery and recalls the lives of some of those who names are written on the tombstones.
She remembers the couple who lived just over the hill, a young boy who died when she was a child, and her own father. His grave is marked by bunches of plastic flowers, a statute of a saint and a tombstone with a scene of a farm carved on the front.
There are other tombstones in this small rural cemetery in the southwest corner of Douglas County whose names Peterson doesn't recognize at all, still others on which the names and dates have long since worn away. In the far bottom corner of the cemetery, simple white crosses mark the graves.
"My mother was real concerned and a lot of the widowed women were just real concerned that they would be out there in the weeds and rattlesnakes and no one was going to take care of them," Peterson said.
This summer, Peterson knocked on just about every door around Overbrook to convince residents to help look after the graves of her relatives and former neighbors.
Peterson's hope is to form a local cemetery district, which would put in place a minimal property tax to cover the annual $1,200 cost of maintaining the gravesites.
At first Peterson was drawn into the cause by her mother, who had gone to the Douglas County Courthouse to ask that the county take over the cemetery.
The graveyard is connected to a tiny Catholic Church that sits a few miles down the road. A decade or so ago, the church turned over the care of the cemetery, which buries more than just Catholics, to volunteers.
Today the cemetery is maintained by aging members of the community who mow and trim the land that spans several acres. For one person on a riding mower, the job can take up to five hours.
Peterson acknowledges that a rural church with a congregation of around 85 is at risk of closing. If it does, Peterson worries about who would care for the dead.
"My concern isn't for right now or even 10 years from now because I'll be able to mow it," Peterson said. "It is a hundred years from now."
Cemetery districts
Douglas County isn't in the business of maintaining cemeteries. But it does allow the formation of districts where residents pay a small amount every year in taxes to go toward cemetery upkeep.
Peterson first asked if the Rock Creek Cemetery could be folded into a cemetery district whose border was right across the road. But that would have required getting the approval of the majority of residents in the neighboring district, a task the cemetery board wasn't willing to take on.
So, Peterson went with Plan C, forming a district of her own.
The only problem, Peterson said, was that Douglas County hadn't created a cemetery district since 1954.
For the cemetery district to be approved, Peterson needed 51 percent of the area's registered voters to sign a petition in support of the district.
This summer, Peterson found herself visiting her neighbors' homes, many of which were at one time owned by people who were now buried in the cemetery she was trying to preserve.
Peterson had mapped out a district that included 118 registered voters, 23 of whom had moved away. That meant she needed more like 75 percent of the registered voters to agree.
"It was three weeks of a lot of talking," Peterson said.
To her surprise, most of the neighbors said yes without much hesitation.
Peterson's petition was approved by the Douglas County Commission in July. The county is still waiting for the church to sign over the land before the district is official.
Citizen efforts
When completed, the Rock Creek Cemetery District will join about a half a dozen or so cemetery districts in Douglas County. The districts are overseen by a corps of aging volunteers who manage budgets that usually run about several thousand dollars.
Finding new members to fill those boards can be difficult.
"It is something that stays with you a long time once you get it," said Ervin Donaldson, who is president of the Clinton Cemetery District.
For more than a decade, Donaldson has been on the board of the Clinton Cemetery, which is where his family rests.
Keith and Carol Noe serve on the East View Cemetery District board, which maintains a cemetery in Big Springs that dates back to the days of the Oregon Trail and has tombstones remembering Civil War veterans.
The district was formed several decades ago when volunteers were having trouble clearing brush. Today, board members continue to remove the overgrown vegetation. The board meets about once a year and always goes with the lowest bidder to mow the cemetery. And people continue to be buried there.
"There are more ties in this community and there are more people willing to help," Carol Noe said.
As for Peterson, she said she already has a cemetery district board lined up. And she is grateful that her neighbors agreed to help.
"It is going to make my mom happy," she said.
Copyright 2018 The Lawrence Journal-World. All rights reserved. This material may not be published, broadcast, rewritten or redistributed. We strive to uphold our values for every story published.