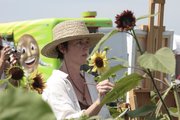 There's an old saying among photographers — or maybe it's an old photographer's saying — that goes, "f8 and be there." It's about getting where you need to be for a photograph and getting the shot. The reference to the F-Stop f8 is significant because it represents the middle aperture on most lenses and a setting at which the camera's zone of focus is increasing. So "f8 and be there" is a nice way of saying "you're there, you're focused, now get the darn shot."
Never heard of this zone of focus? It's also known as "depth of field" (DOF), and it is determined by your choice of F-stop/aperture when making an exposure.
Depth of field represents an area of your image in front of and beyond your point of focus that will also remain in focus. A good way to remember the relationship between your F-stop/aperture and DOF is:
• The larger the number representing your F-stop, the greater the DOF
• Smaller F-stop, smaller DOF
Control of DOF is useful for photographers using DSLR cameras and lenses with adjustable F-stop. The effects can be dramatic. Three factors determine the extent of depth of field:
• F-Stop/aperture
• Lens choice
• Proximity to subject
As mentioned above, the larger the F-stop, the greater the DOF. Regardless of your lens choice, this always applies. However, the higher the magnification factor of a lens, the smaller the depth of field will be, even with large F-stop settings.
Sports photographers purposely choose small F-stops for very shallow depth of field. This separates players from distracting backgrounds. Wide-angle lenses have greater depth of field through all F-stops. If I set an exposure of F16 at 1/500th and put on a wide-angle lens, I barely need to focus at all. My depth of field may take in a zone of focus from 6 feet to infinity. This is a technique used by street photographers who like to shoot from the hip. No focusing needed. This is how disposable cameras work. They have a large, fixed F-stop, which provides great DOF.
Your proximity to your subject also affects your depth of field. The closer you are, the shallower the DOF. The farther away, the larger the DOF.
Put your hand in front of your face and keep your eyes on it. Now move your hand close to your face and then move it away. Notice how this affects the periphery of your view and appearance of focus.
Take control of your F-stop settings and "f8 and be there," friends.
Copyright 2018 The Lawrence Journal-World. All rights reserved. This material may not be published, broadcast, rewritten or redistributed. We strive to uphold our values for every story published.