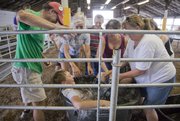 On Saturday afternoon, Douglas County 4-H'ers put to the test skills they've honed all week but never had the chance to showcase.
Competing in the Barnyard Olympics, members stacked hay bales, threw water buckets and even demonstrated their talent for eating watermelon.
"We wanted a fun activity that the kids can do at the end of the week to kind of let it all out. This is a great way to do it," event superintendent Cindy Allen said. "It ties in all the aspects they have been doing all week."
Teams of four competed in an obstacle course that involved tossing a grain scoop into a bucket, stacking hay bales, relaying a bucket of water from one trough to another, throwing a bucket in the air until it landed standing up, eating watermelon down to the rind and roping a fake steer.
"It's a good test for teamwork," said 11-year-old 4-H'er Amanda Snodgrass. "It is kind of hard to figure out where you are supposed to go next. But it's really fun because you are falling in the dirt and getting all wet."
Marking the end of the fair, Saturday was the day for 4-H'ers to pack up their projects and auction off their livestock.
"It's kind of sad," said Amanda, who took rabbits to the fair.
Despite the close of what many 4-H youths consider the highlight of their summer, the fairgrounds weren't at all solemn Saturday afternoon. Food vendors and the carnival rides were still in full swing. Small children were competing in the miniature tractor pull competition.
And of course there was plenty of screaming and cheering during the Barnyard Olympics.
"It is just a way to blow off steam, have fun and make another memory for the Douglas County Fair," said Kari Wempe, who was also a superintendent for the event.
And blow off steam they did. Just seconds after Wempe made the comment, she was doused with a bucket of water from a group of 4-H'ers.
Copyright 2018 The Lawrence Journal-World. All rights reserved. This material may not be published, broadcast, rewritten or redistributed. We strive to uphold our values for every story published.