Ashburn, Va. — Haynesworth can't take conditioning test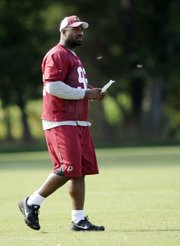 Albert Haynesworth came to work Saturday morning with a slightly swollen knee, forcing him to scrap his latest chance to pass the Washington Redskins conditioning test and keeping him exiled from practice for yet another day.
The two-time All-Pro defensive tackle arrived early at Redskins Park and told the team he had some irritation in one of his knees. Doctors recommended that he not take the test and instead ride a stationary bike and get treatment.
"Here's a setback already," coach Mike Shanahan said. "His knee's a little bit swollen. Hopefully it's not too bad."
Saints' Bush focused on upcoming season
Metaire, La. — Running back Reggie Bush said he would not let the distractions of USC's probation and the school's subsequent ostracizing of him affect his performance with the Saints.
Talking publicly for the first time Saturday since USC sent back its replica of the 2005 Heisman Trophy Award he won and eliminated nearly all mention of him on its campus, Bush said he had no choice but to move on. The Saints are in the second day of training camp.
"The whole situation is terrible, and nobody feels worse about than I do," Bush said. "At the same time, I can't dwell on the negative. I have a job to do, and I have a whole organization and city riding on my back. Not just my back, but the team."
After a lengthy investigation, the NCAA ruled in June that Bush and his family accepted improper benefits while he was at USC. The Trojans received four years' probation, a two-year bowl ban and scholarship restrictions.
"I try to remember that every time I step on this field that it's our sanctuary," Bush said. "This is our place to just forget everything and play football and do what we love to do and not worry about anything else."
McCoy, Penn agree with Buccaneers
Tampa, Fla. — The Tampa Bay Buccaneers agreed to terms on a five-year contract with first-round draft pick Gerald McCoy and also reached a six-year deal with restricted free agent left tackle Donald Penn on the opening day of training camp.
General manager Mark Dominik announced the developments Saturday during the club's first practice. Penn joined the workout about 15 minutes later, and there was a chance McCoy would join the team at One Buc Place by the end of the day.
"We're finishing up some language and paperwork," Dominik said of McCoy, the third overall pick in this year's draft out of Oklahoma. The Bucs are counting on the 6-foot-4, 295-pound tackle to fill a hole on the defensive line that's existed since Warren Sapp departed Tampa Bay after the 2003 season.
"It's a great day for the Bucs," the general manager added, "in terms of securing two players to long-term deals that can be really important to this organization."
Titans reach deal with Morgan
Nashville, Tenn. — The Tennessee Titans have agreed to terms on a deal with first-round draft pick Derrick Morgan out of Georgia Tech.
The defensive end tweeted Saturday night that he was in a break room in the team's headquarters waiting to sign reportedly a five-year deal. Terms were not immediately available.
Broncos, No. 22 pick agree to terms
Denver — First-round draft pick Demaryius Thomas has agreed to terms with the Denver Broncos, avoiding a holdout on the eve of training camp.
Terms of the deal reached Saturday were not disclosed.
The Broncos chose the Georgia Tech wide receiver 22nd overall in the draft, three spots before quarterback Tim Tebow. Thomas was the last member of Denver's draft class to sign.
Seahawks top picks remain unsigned
Renton, Wash. — Not everything was perfect on Pete Carroll's first day of Seahawks training camp. His two first-round picks remained unsigned.
The agents for both Russell Okung, the sixth-overall pick, and for starting safety and 14th choice Earl Thomas had been hopeful their clients would be on the field by Saturday.
Lions still working on deal with Suh
Allen Park, Mich. — The Detroit Lions have opened training camp without Ndamukong Suh.
The Lions practiced Saturday afternoon while team officials and Suh's agents, Eugene Parker and Roosevelt Barnes, worked on reaching a contract agreement.
"I just got off the phone with those guys a minute ago," Lions president Tom Lewand said soon after practice started. "We had an extended conversation and I'm sure we'll have another one shortly. Both sides are focused on getting this done as quickly as possible."
Philadelphia inks veteran WR
Philadelphia — The Eagles have signed veteran wide receiver Kelley Washington to a one-year contract and released Jared Perry.
Washington is entering his eighth season in the league, having played with the Cincinnati Bengals, New England Patriots and Baltimore Ravens.
Indianapolis signs third-round pick
Indianapolis — The Indianapolis Colts have signed third-round draft pick Kevin Thomas, leaving only first-round pick Jerry Hughes without a contract agreement as training camp starts.
Thomas is the seventh of the Colts' eight draft choices to reach a deal this week, though the Southern Cal cornerback is expected to miss the entire season after hurting his right knee during rookie minicamp in May.
Haden reaches deal with Browns
Berea, Ohio — Hours after missing the first workout of training camp, first-round draft pick Joe Haden reached agreement with the Cleveland Browns.
Haden, a cornerback out of Florida, was en route to Cleveland on Saturday after signing a five-year contract. His agent, Malik Shareef, said on his Twitter account that Haden had agreed to terms of a deal.
Pro Bowl special teamer Morey retires
Renton, Wash. — Special-teams ace Sean Morey has retired from the Seattle Seahawks.
A team spokesman announced the move Saturday morning, minutes before the Seahawks started training camp. Morey was a Pro Bowl selection in 2008 with Arizona, and he signed a free-agent contract with Seattle this offseason.
Giants sign first, second rounders
Albany, N.Y. — The New York Giants are going to training camp with all their draft picks signed.
The Giants announced late Saturday night that first-round choice Jason Pierre-Paul signed a multi-year contract just hours after second-round choice Linval Joseph signed his contract.
Copyright 2018 The Associated Press. All rights reserved. This material may not be published, broadcast, rewritten or redistributed. We strive to uphold our values for every story published.