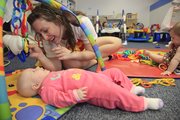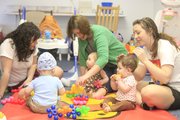 Smart play
Tips from KU researcher Kathleen Baggett on improving your recognition and reaction to your baby's signals:
Follow that gaze. Baggett says that with very young babies often a positive signal can be as subtle as a gaze in the direction of a toy. Noticing that gaze and bringing the toy closer and speaking about the toy to the child is a way of recognizing and supporting this signal.
Follow that gaze part II. Similarly, with very young babies, an averted gaze can be a clue that it's time for a break from stimulation from a toy. Giving the baby a break from a shaking rattle or music-maker can show that you've understood the baby's signal.
Let your child lead. As babies age, their signals typically become stronger and they may become clearer. Make sure to watch for a change in signals and adapt.
Have a sensitive response. Babies are very observant. Make sure that when a baby shows interest to make sure to have a look of interest as well. Also use words to describe what you're looking at and what has occurred. Also, think about how your are going to respond before you do.
Be plugged in. All babies are different and focusing on your baby and really paying attention is the best way of figuring out how your baby shows interest or disinterest.
Mothers know their child's needs without even thinking. The pitch of a grunt, purse of the lips or a sly smile can tip them off to exactly what they're little bundle of joy is really wanting.
But the reality is that 11.6 million infants and toddlers in the U.S. spend 35 hours per week or more outside of their mothers' attentive care, according to 2008 numbers from the National Association of Child Care Resource & Referral Agencies. And while there's nothing wrong with having a child in full-time care, about half the infants and toddlers in those child-care settings are not getting the type of quality interactions they need, says Kathleen Baggett, assistant research professor at Kansas University's Life Span Institute. And that lack of engagement most definitely can be a problem.
"One of the things that we know about babies is that where they are growing up in environments when their social-emotional needs aren't being supported, which can happen for a variety of reasons, (is that) kids are at greater risk for all kinds of poor outcomes, which include not only developmental outcomes in infancy, but also their readiness for school," Baggett says. "Quality is a huge concern in child-care centers today. ... The field desperately needs to implement training programs for those who work with the very youngest children in child care."
Baggett hopes to do just that. The KU researcher has received a U.S Department of Education grant worth nearly $1.4 million to train infant teachers at child-care centers to promote the social and emotional development of the children for which they care.
"What we're going to be doing is developing and doing some additional feasibility testing with a web-based professional development program for child-care teachers of babies," she says.
Baggett's three-year project will marry new technology with proven engagement techniques by using web-based training to guide infant teachers through a series of video lessons and techniques to engage and recognize a baby's developmental needs. The program will provide mini "netbooks" loaded with the 10 to 15 tutorial videos to participating child-care teachers. Not only will the netbooks allow the child-care providers to use the tutorials at their own convenience, the computers also are equipped with eyeball cameras to record caregiver-infant interactions. Coaches employed by the study will use the cameras to observe the teachers and help them recognize important infant social signals and implement what they've learned.
"The childcare provider will go through the session and then they will make a video of them trying out some of the strategies with one of the kiddos and then I call them," says Stacia Mitchell, a family coach the KU-run Juniper Garden Children's Project and coach for the project.
The key, Baggett says, will be not only teaching the skills but in the care-givers' consistency in using them.
"Our focus will be consistency for babies in the environment that they're in. That will mean consistency in terms of consistently watching for babies' signals and responding to those in a sensitive, warm way," Baggett says.
Shelly Platz-Davidson, director of Stepping Stones Inc., 1100 Wakarusa Drive, says that engaging in real-time education and research in a child-care setting can be beneficial to even the most experienced teachers. Platz-Davidson says that Stepping Stones took part in a long-term language study and that the feedback from the researchers was informative.
"To really have someone taking research and give you real numbers and breakdowns what kind of vocalizations you're having with the kids — I think that's real eye-opening for the teachers," Platz-Davidson says. "Because they may assume they do different things a lot, but they may not actually or they may actually do something more than they think they do."
Copyright 2018 The Lawrence Journal-World. All rights reserved. This material may not be published, broadcast, rewritten or redistributed. We strive to uphold our values for every story published.