London — The miasma of volcanic ash hovering over Europe showed no sign of dissipating Saturday, keeping thousands of forlorn travelers stranded across the continent for a third day and worsening economic losses.
The cloud of grit from the still-erupting Eyjafjallajokull volcano in Iceland began creeping as far south as Italy, forcing authorities to shut down airports in the northern part of the country.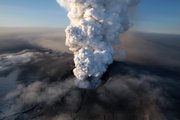 Travelers anchored to Earth continued their scramble for hotels, or for trains, ferries and even taxis to reach their desired destinations. In Copenhagen, an enterprising cab company posted fares for long hauls across the continent: about $2,000 for passengers going to Amsterdam; $6,000 all the way to Madrid.
Most of British airspace remained closed, with planes grounded until 1 p.m. today at the earliest, despite a brief window of opportunity for a few flights Saturday afternoon from airports in Scotland, Northern Ireland and northern England. By Saturday evening, the volcanic pall covered the whole country once again.
In Germany and northern France, including Paris, authorities canceled all flights until early today. Irish, Belgian, Dutch, Austrian and Swiss airspace was restricted. Most major airports throughout Scandinavia were idled, including Arlanda, Stockholm's largest, which warned on its website: "The forecast is now even more uncertain than before."
Copyright 2018 The Lawrence Journal-World. All rights reserved. This material may not be published, broadcast, rewritten or redistributed. We strive to uphold our values for every story published.