Washington — One of the Obama administration's prime initiatives — the development of sources of alternative energy to reduce U.S. reliance on foreign oil, create American jobs and combat climate change — is being undermined by the Defense Department. The department is threatening to scuttle what promises to be the world's largest wind farm in eastern Oregon, arguing that the giant turbines could interfere with the Air Force's radar detection system.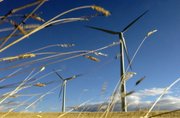 Caithness Energy had planned to break ground two weeks from now on a 845-megawatt, $2 billion wind farm near Arlington, Ore., a economically depressed rural community. But last month Pentagon officials moved to deny the developer its final Federal Aviation Administration permit.
The move has sparked an intense lobbying battle and White House-led negotiation, as senior Obama officials hope to avert a showdown that could cost 16,000 American jobs. The Pentagon's objections could jeopardize three other major wind projects by another developer in the same region, along with proposed farms in states from Illinois to Texas.
Sen. Ron Wyden, D-Ore., who has halted the confirmation of a senior Pentagon political appointee until the matter is resolved, said the dispute has "significant implications for the country. This is not about one project. It's about the future of renewable, domestic, clean power."
The standoff centers on whether the blades of the Shepherds Flat project's 338 turbines will interfere with the sensors of a radar system in Fossil, Ore. Just this week the British Defense Ministry announced it is ordering a long-range air surveillance radar system from Lockheed Martin that is compatible with wind turbine blades, but Defense officials have given no indication that they are considering adopting a similar system.
The FAA declined to comment on the matter; Pentagon officials did not respond to media requests.
The FAA sent notices to both Caithness Energy, a company that has spent nearly four decades developing renewable energy projects, and an array of local landowners who plan to host wind turbines on their property saying the structures pose "a hazard to air navigation." In the letter to landowners, the FAA stated any structure zero feet above ground level "exceeds obstruction standards and/or would have an adverse physical or electromagnetic interference effect upon navigable airspace or air navigation facilities."
As a result of the FAA's permit refusal, work has halted on the nine-year venture. The Energy Department has stopped working on the project's loan-guarantee application; it remains unclear if GE will be able to finish manufacturing the turbines, which represented the company's largest renewable energy contract of 2009.
Any significant delays in construction could kill the wind farm, according Caithness Energy Executive Vice President Ross Ain, because the project will take 18 months to complete and it will lose its eligibility for federal stimulus funds unless it's finished by the end of 2012. In addition, the farm is supposed to start supplying power to Southern California Edison by late next year, which is under pressure to meet its state's strict renewable portfolio standards.
"We're extremely disappointed that the concerns raised by the Air Force at the 25th hour threatens to crater literally billions of dollars of renewable energy in the United States and tens of thousands of jobs in renewable energy," Ain said. "We've tried to raise it to the highest level of government, to make sure the people in charge are aware of this, because we do not have much time."
The Pentagon's move has now put in jeopardy three other nearby wind farm projects by Iberdrola Renewables. Taken together with Shepherds Flat, the projects would produce 3,000 megawatts, an amount of electricity equivalent to three nuclear power plants.
Copyright 2017 The Lawrence Journal-World. All rights reserved. This material may not be published, broadcast, rewritten or redistributed. We strive to uphold our values for every story published.