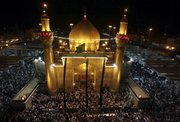 Baghdad — Iraqi security forces disrupted a 9/11-style plot by al-Qaida in Iraq to fly hijacked planes into Shiite religious shrines, Iraqi and U.S. officials said Wednesday.
Iraqi security officials said they temporarily shut down at least two airports and have arrested two men — one of the intended pilots and an airport worker — suspected in the plot, which appeared aimed at undermining the country's stability while U.S. troops prepare to go home.
Two U.S. intelligence officials in Washington confirmed the plot but said it did not appear to be fully planned out, and it wasn't clear that militants would be able to carry out any attacks. Both U.S. officials spoke on condition of anonymity because the investigation was still under way.
Airports in Baghdad and Najaf were shuttered last week as intelligence officials said they learned of the plot. The airport in Najaf remains closed because of its proximity to the gold-domed Imam Ali shrine, one of the most revered Shiite religious mosques in the world, one of the officials said.
Iraqi Defense Minister Abdul-Qader al-Obeidi told reporters in Najaf that the airport "will be reopened soon, after discussing the needed security measures." He said the intelligence about the attacks is unclear but "at the same time, we can't neglect them."
He did not confirm or comment on any of the specific allegations.
Details of the alleged plot were sketchy, and at least one Iraqi official denied it.
Defense Ministry spokesman Maj. Gen. Mohammed al-Askari acknowledged general "threats" but denied that there was a specific plot to hit holy shrines. He did not elaborate.
Al-Qaida in Iraq has been blamed for a recent violence in Baghdad, and security officials believe the terror network is trying to regroup during the political disarray left by the March 7 parliamentary elections, which failed to produce a clear winner.
The alleged plot also comes as American forces plan to send home all but 50,000 troops by Aug. 31, with the rest scheduled to follow by the end of 2011 as required by a U.S.-Iraqi security agreement.
Targeting holy sites has long been a hallmark of the Sunni-dominated al-Qaida in Iraq to stoke sectarian retaliation and bring Iraq back to the brink of civil war. So far, there has been no indication that Shiite militias have galvanized against Sunnis, although al-Qaida also has targeted former Sunni insurgents known as the Sons of Iraq who rejected the terror network and joined forces with U.S. troops in one of the turning points of the war.
Two senior Iraqi officials said al-Qaida planned to hijack flights as they were leaving Iraqi airports, prompting Prime Minister Nouri al-Maliki to order tighter screening — including searches of security forces and background checks of pilots and airline crews.
Passengers and airport workers also will undergo more rigorous searches, and VIP lanes that let officials breeze through lines will be discontinued, one of the Iraqi officials said. He said the only person who will not have to undergo the tougher measures is Iraqi President Jalal Talabani because of his age and health.
The two Iraqi officials also spoke on condition of anonymity because the investigation was ongoing.
An al-Maliki spokesman refused to comment.
Copyright 2018 The Associated Press. All rights reserved. This material may not be published, broadcast, rewritten or redistributed. We strive to uphold our values for every story published.