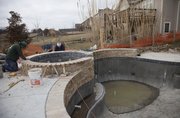 As the economy plods along, local businesses have been taking a hard look at their business models with an eye toward reinvention.
Glen Westervelt of Lawrence Landscape says his company has had to recreate itself to survive the slowdown in residential and commercial construction.
"We were already fairly diversified," Westervelt says, "but we've been looking for new avenues for revenue, for sure. The main place we've diversified is in trying to create more on the maintenance side of things."
Lawrence Landscape started in 1986, offering lawn construction as well as basic lawn maintenance to its customers.
"Back then, we weren't doing chemical applications. We were just mowing and doing lawn care," Westervelt explains. "Now, we're doing a lot of irrigation maintenance, snow removal and landscape design, too."
During the winter, the company's expansion to snow removal services paid off with dividends, thanks to Mother Nature.
"We probably did more snow removal this season than we have in 23 years. Typically, we're not pushing snow but once or twice a year and you sit there watching all that expensive equipment rust all winter. That's part of diversification that's not always fun, but this year it's paid off because it's kept my guys busy," Westervelt says.
Three years ago, Lawrence Landscape reinvented itself again by offering swimming pool installations and the knowledge of Bruce McKee, after purchasing McKee Pool & Landscape.
"He had the expertise, and we wanted to put that in our business model," Westervelt says. "I wouldn't have ever tried it without him. He's taught us a lot, and it's been a good fit for us. Now, we're planning to add the spray-play areas, instead of an actual pool. They have little squirters so kids can run through them. It's a cheaper alternative to a swimming pool without the maintenance and the danger."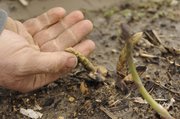 Marketing strategy
Over time, John and Karen Pendleton have tried several inventive strategies to keep their family farm operation from withering in the harsh elements — corn mazes, you-pick asparagus and flowers, birthday parties, agri-tourism events. This year, they've reinvented their marketing approach with modern tactics.
"We're doing a lot more social media," Karen Pendleton says. "We were one of the first places that had a Web site — about 12 years ago, I think. In fact, we were able to get the domain Pendletons.com, which was a big deal. I thought we'd use it to tell people what we were harvesting from week to week but, over the years, we found out that people just go there for basic information. It's kind of a stagnant thing.
"Then, we started sending e-mail newsletters to our customers so we could get immediate information out — like we're picking peas this week, for instance," she explains. "But, we weren't getting many new people on our list — just our loyal, super-fantastic customers. That's why we're on Facebook now, and that's how we're getting new customers."
Pendleton says trend spotting is always important to their business. This year, tighter economic times have caused more people to look into home gardening.
"Flowers were really big during the '80s and '90s, even in the last decade. But, vegetables seem to be bigger now, so we'll do more vegetables this year. And we're definitely planting more vegetables in the greenhouse so people can get seedlings. We'll need to be an education source, because people who haven't gardened before need it, which is something we can do with social media."
A new menu
Owner/executive chef Ken Baker said his decision to redefine his restaurant, Pachamama's, has been a few years in the making.
"It was a combination of a couple factors," he says. "One of them was definitely the economy. That was the catalyst, but I was thinking of moving in the direction of honest and simple cooking for a while, still using premium ingredients and sourcing local as much as I could. Just not being as experimental."
Considered an upscale "special occasion" place by many, Pachamama's lower-priced bar menu had been attracting a growing number of customers into the more casual back end of the restaurant and on the sidewalk patio.
Baker took notice and made a change.
"We started offering the Star Bar menu in the main dining room about three months ago," he says. "That was an economic factor. I just wanted to see the seats full. We'd been working for a long time on getting over the reputation of being 'special occasion' and expensive and out of reach for the majority of the population. I can't survive like that."
While the move might not qualify as a drastic reinvention, it was a change in mindset that made a difference.
"It's absolutely working," Baker notes. "We're definitely seeing more new faces out there, and I think the word's starting to spread."
Copyright 2018 The Lawrence Journal-World. All rights reserved. This material may not be published, broadcast, rewritten or redistributed. We strive to uphold our values for every story published.