With rallies in the ninth and 11th innings, the Kansas University baseball team avoided losing its first Big 12 series after winning the opening game since 2007. In doing so, however, the Jayhawks picked up their first tie since 2004.
Related document

KU vs. Texas A&M box score ( .PDF )
Photo Gallery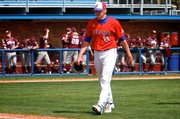 KU baseball vs. Texas A&M
Photos from the KU baseball team's game against Texas A&M April 3, 2010.
In what turned out to be an eventful and somewhat unfortunate ending to an ultra-competitive series, KU and No. 22 Texas A&M; tied, 8-all, Saturday at Hoglund Ballpark. The tie, which was agreed upon by both teams, came because of the Aggies' travel commitments.
For KU coach Ritch Price, a 28-year veteran of college baseball, the tie was the third of his career. For the KU players, it sparked a flood of disappointment.
"It feels like a loss, to be honest with you," KU outfielder Jimmy Waters said. "I'd rather actually straight-up lose than have a tie. Obviously, it's not the way we wanted to finish it."
Added KU second baseman Robby Price: "Ties definitely suck. I don't know how else to really say it. Both teams competed real well and it was a well-played college baseball game. We just have to keep our heads up. We have nothing to be ashamed of from this weekend."
That's true, in large part, because of Robby Price. In addition to extending his hitting streak to 13 games with a double in the bottom of the first, the gritty senior came up with a game-tying single in the bottom of the ninth.
"I was just looking for a pitch to hit," Robby Price said. "Luckily, he threw a fastball (with a) 1-2 (count), and I was right on time."
That the Jayhawks needed Robby Price's heroics in the ninth was the disappointing part. KU (18-10-1 overall, 3-2-1 in Big 12 play) led 2-0 after one inning after a two-run home run from center fielder Brian Heere. Texas A&M; cut the gap to 2-1 with a run in the third and went ahead, 3-2, with two more in the fifth.
Behind a three-run double from Waters, KU put up a four-spot in the bottom of the fifth and took a 6-3 lead into the sixth. That's when reliever Tanner Poppe took over for starter Brett Bollman, who went five innings and struck out two. For two innings, Poppe looked unhittable. He cruised through the sixth and seventh but then found trouble in the eighth. Despite getting to two strikes on three straight batters, all of them reached base, which opened the door for the Aggies to score four runs of their own to take an 8-7 lead into the ninth.
Both teams were scoreless in the 10th but the Aggies reclaimed the lead in the top of the 11th when KU reliever Colton Murray was called for a balk with runners on second and third.
Kansas answered, yet again, in the bottom of the 11th, though, as Zac Elgie singled to lead things off and Robby Price was hit by a pitch to put runners at first and second with one out.
Heere then followed with an RBI single, but with runners at first and third and just one out, KU's Tony Thompson and Brett Lisher were unable to get the winning run home, therein ending the game in a tie.
"Obviously it's a little disappointing," Ritch Price said. "It's an awful way to end this series, especially as highly competitive as that series was all three games. One of the great things about our sport is we don't have ties. It's not hockey. So it's a weird feeling."
Copyright 2018 The Lawrence Journal-World. All rights reserved. This material may not be published, broadcast, rewritten or redistributed. We strive to uphold our values for every story published.