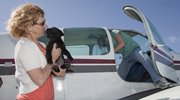 Private pilots all over the country are taking to the skies, volunteering both their time and aircraft to help rescue animals as part of Pilots 'N Paws.
"I thought why not combine the two things I love," said Olathe resident Sarah Owens, who's been flying for the organization for the past year. "So this way I get to fly and rescue animals."
Eight Labrador puppies were brought to Lawrence on Wednesday by Perry Lake resident Rhonda Schademann. "Sometimes they really do need people just to foster the dogs overnight or for maybe a couple of nights and then get them to the airport or get them to the next meet point," said Schademann, a foster driver.
Schademann said drivers are needed to pick up the animals from shelters. Some shelters are forced to control their animal population by euthanizing them.
Once picked up, the rescued animals are taken to "no-kill shelters" or to adoptive homes by way of private plane.
On Wednesday, eight Labrador puppies were loaded up into kennels and into Owens' single-engine airplane at Lawrence Municipal Airport for a trip to Wichita. From there the puppies switched flights and left for their final destination in Denver.
Mile High Labrador Rescue is a Denver-based organization that works to rescue and place Labs from around the country. Six of the eight puppies already have homes. Many of those adoptive families were eagerly awaiting their new addition's arrival at the Denver area airport.
If you would like more information, log onto pilotsnpaws.org.
Copyright 2018 The Lawrence Journal-World. All rights reserved. This material may not be published, broadcast, rewritten or redistributed. We strive to uphold our values for every story published.