Photo Gallery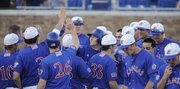 KU beats Missouri State
Related document
KU vs. Missouri St. box score ( .PDF )
After pounding out six runs on six hits during the first two innings of Wednesday's midweek battle with Missouri State, Kansas University's baseball team shut its offense down.
Everyone except for designated hitter Zac Elgie, that is.
The irony of Elgie's resurgence — he was the only Jayhawk to record a hit in the final five innings — was that his two hits (a single in the fifth and what proved to be the game-winning home run in the eighth) came after two subpar at-bats and led the Jayhawks to a 7-6 victory at Hoglund Ballpark.
"After his two at-bats, he comes back in and sits on that bench, and he was just devastated," KU coach Ritch Price said. "Then he swings at a pitch in his eyes and lands a base hit, and hopefully that's the one that got him going because he lasered the next one."
Actually, it was a pep talk from KU assistant coach John Szefc that got Elgie going.
"I kind of had my head down in the dugout, and coach Szefc came up to me and said, 'Hey, you've at least got two, maybe three more at-bats left in the game so just go out there, try to make hard contact and end the night on a good note. To hear that from him kind of gave me a little bit of confidence."
Things got tight late when Missouri State plated three runs in the top of the eighth and two more in the top of the ninth. That's when Price turned to freshman fireballer Tanner Poppe to slam the door. With KU clinging to a 7-5 lead, with one out and runners at second and third, Poppe coerced a deep fly ball to center and a groundout to second to end the game.
"One of the things you have to do over 60 games is find different ways to win," Price said. "I was extremely proud of all of our guys tonight."
KU plays host to Texas A&M; for a three-game home series beginning at 6 tonight.
Copyright 2018 The Lawrence Journal-World. All rights reserved. This material may not be published, broadcast, rewritten or redistributed. We strive to uphold our values for every story published.