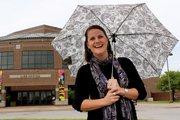 Earlier in Megan Poindexter's career, she worked with people experiencing some of the lowest and most heart-wrenching moments of their lives.
"Now I work with people at the other end of the spectrum," says Poindexter, the Lied Center's director of development.
"People usually come to the Lied Center in a great mood," she says. "They're excited about the performances and enjoy chatting with neighbors in the lobby, or they're on a date with a loved one."
Poindexter, born in Manhattan, says her focus on people and relationships began in early life.
"As a child, I enjoyed listening to conversations," she says. "I've always wanted to understand the human condition, identify what might help those in need and been passionate about connecting with people in a meaningful manner."
This interest led her to earn a degree in family studies and human services from Kansas State University in 1999, and she became a state foster case worker in Kansas City.
"It was the hardest job I'd ever done, especially considering my young age and naively optimistic view of the world," she acknowledges.
In 2003, she began a master's in social work at the University of Missouri-Kansas City, worked as a birth mother counselor/case worker for a private adoption agency and started fundraising to provide scholarships to help birth mothers achieve their educational goals.
"Fundraising struck a deep chord for me," she says. "My father was president of the Kansas 4-H Foundation, and his job included a huge amount of fundraising. I understood the importance of nonprofits in our society and the generosity of donors who make great programs possible."
After a period of further soul-searching, Poindexter knew she needed to change course.
"My skin wasn't thick enough to do social work for very long, but in retrospect it gave me the feeling I could handle anything," she says.
In 2005, she transferred credits and embarked on a Master of Public Administration degree with emphasis on nonprofit management. In the meantime, her personal life experienced a sudden, dramatic change: Cupid's arrow made a direct hit.
"I was in a Kansas City restaurant with a group of friends when I saw Chad across the room," she recalls. "Our eyes met in a rare moment. It was love at first sight."
She married in 2006, moved to Lawrence and continued her daily commute to Kansas City until Chad called her attention to an ad for the Lied Center position.
"It was the perfect job and seemed like a delightful fit," she recalls.
It was.
Poindexter started at the Lied Center in December 2006 and completed her MPA in 2007.
Today she facilitates fundraising and coordinates events and rewarding activities for Friends of the Lied.
"Sometimes we forget we live in the Midwest," Poindexter says. "The Lied Center provides performances of the caliber usually only found in New York or San Francisco. We're lucky, in a city this size, thousands of miles away from the coast, to experience the great artists the Friends of the Lied help bring. I can't think of a more enjoyable place to be."
Copyright 2018 The Lawrence Journal-World. All rights reserved. This material may not be published, broadcast, rewritten or redistributed. We strive to uphold our values for every story published.