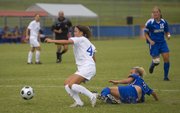 Junior forward Rachel Morris scored two goals and added an assist, and freshman Whitney Berry chipped in two assists as 22nd-ranked Kansas University won the Jayhawk Invitational title with a 4-0 soccer victory over South Dakota State on Sunday at the Jayhawk Soccer Complex.
Kansas, which defeated No. 18 San Diego 5-0 on Friday, won both of its matches at the tournament and improved to 7-1-1, while the Jackrabbits fell to 2-4-2.
"I thought the girls did a good job this weekend," KU coach Mark Francis said. "Obviously we won and didn't allow any goals, but on top of that, I thought we played well in both games. I thought these two games were pretty consistent for how we expect to play and what we hope to achieve. I thought both defensively and when we had the ball, we did a good job with that."
After recording their most lopsided victory of the season Friday, the Jayhawks wasted little time getting on the scoreboard against South Dakota State.
Just 23 seconds into the match, Morris finished her second goal of the weekend with a high-arching shot over the goalkeeper off a cross from Berry in the near corner. The goal was the fastest to start a match in Kansas history, surpassing the old mark which was held by Erin Hon, who scored a goal 35 seconds into a 1998 match against Western Illinois.
Later in the half, senior Monica Dolinsky found the back of the net with a blast from just outside the box after she had carried the ball through the Jackrabbit defense. Dolinsky's goal, in the 20th minute, gave KU a 2-0 lead at the halftime break. The Jayhawks have been ahead or tied at the half in all nine of their games this season.
Morris got into the act again in the second half, crossing a ball from the near side of the net, which was finished by senior Estelle Johnson for her first goal of the season in the 56th minute. Johnson became the 10th Jayhawk to net a goal this year.
Morris capped her career day with a goal in the 70th minute off another Berry pass. This time, the freshman sent a ball into the box from the far side of the field that eluded the South Dakota State goalkeeper, and on to Morris' foot, giving KU its margin of victory. The five-point match for Morris was the top performance by an individual this season, and the most points by a Jayhawk since Shannon McCabe's hat trick against Francis Marion last October.
"Rachel has done great," Francis said. "We knew what kind of potential Rachel had, and when you get injuries, it creates opportunities for other people. I think Rachel got that opportunity and has made the most of it. She has gained in confidence every time she steps onto the field. She was the offensive MVP this weekend, which is awesome for her. I'm really happy for her, because she's a great kid who works hard and I think she's going to keep giving us good minutes (at forward)."
KU's defense was solid all weekend, holding both San Diego and South Dakota State scoreless. The Jayhawks have not allowed a goal since the 84th minute of their loss to No. 19 Denver on Sept. 11. Senior Julie Hanley made three saves on Sunday against the Jackrabbits.
"The defense is playing really well right now," Francis said. "Julie (Hanley) is doing a great job behind them, keeping them organized. But I think just collectively as a team, we've made it difficult for teams to score. We've done a good job of putting pressure on other players. We put pressure on our opponents all over the field, so I think we just have to continue to do that."
Five Jayhawks were named to the Jayhawk Invitational all-tournament Team, including Morris and Johnson, who were selected the offensive and defensive MVPs respectively. Other Kansas players honored were Hanley, Dolinsky and junior Lauren Jackson.
San Diego defeated Missouri State, 1-0, in the earlier match of the Jayhawk Invitational Sunday.
The Jayhawks (7-1-1) will open Big 12 play on Friday against No. 21 Oklahoma State in Stillwater, Okla. Kickoff is scheduled for 7 p.m. at the Cowgirl Soccer Complex.
Copyright 2018 The Lawrence Journal-World. All rights reserved. This material may not be published, broadcast, rewritten or redistributed. We strive to uphold our values for every story published.