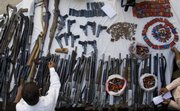 Islamabad — Police raided a Pakistani security firm that helps protect the U.S. Embassy on Saturday, seizing 70 allegedly unlicensed weapons and arresting two people. The incident follows a series of scandals surrounding American use of private contractors in Iraq and Afghanistan.
The raid on two offices of the Inter-Risk company is especially sensitive because of a slew of recent rumors and media reports that U.S. embassy expansion plans in Pakistan include hiring the security firm formerly known as Blackwater.
The U.S. says there is no truth in the reports, but they have resonated with the many Pakistanis familiar with allegations that Blackwater employees were involved in unprovoked killings of Iraqi civilians.
Police official Rana Akram said that two Inter-Risk employees were arrested and being questioned. He said authorities were also seeking the company's owner, a retired Pakistani army captain.
Reporters were shown the weapons — 61 assault rifles and nine pistols — that were seized by dozens of police from the sites in pre-dawn raids in the capital, Islamabad.
U.S. Embassy spokesman Rick Snelsire said the U.S. contract with Inter-Risk to provide security at the embassy and consulates took effect this year. It is believed to be the first U.S. contract for the firm, Snelsire said. He did not know how long the contract was for or what it was worth.
"Our understanding is they obtained licenses with whatever they brought into the country to meet the contractual needs," he said. "We told the government that we had a contract with Inter-Risk."
A man who answered the phone number listed for the company and identified himself as Riaz Hussain said a raid had occurred, but gave no more information.
According to Inter-Risk's Web site, it was first formed in 1988 and offers wireless home alarm systems as well as security guards and other services.
Though the U.S. Embassy in Islamabad does have American security staff, much of the work is done by local workers. At checkpoints and gates leading to the embassy compound, for instance, Pakistani security guards inspect vehicles and log in visitors.
Scandals involving private contractors have dogged the U.S. in the Middle East and South Asia.
In Washington on Friday, the Commission on Wartime Contracting heard testimony about another contractor — ArmorGroup North America — involving alleged illegal and immoral conduct by its guards at the U.S. Embassy in Afghanistan.
Earlier this year, the Iraqi government refused to grant Xe Services — the new name for what was once Blackwater — an operating license amid continued outrage over a 2007 lethal firefight involving some of its employees in Baghdad, although the State Department has temporarily extended a contract with a Xe subsidiary to protect U.S. diplomats in Iraq.
Many of the recent rumors in Pakistan have been prompted by U.S. plans to expand its embassy space and staff. Among the other unsubstantiated stories the U.S. denies: that 1,000 U.S. Marines will land in the capital, and that Americans will set up a Guantanamo-style prison.
The U.S. says it needs to add hundreds more staff to allow it to disburse billions of dollars in additional humanitarian and economic aid to Pakistan. The goal is to improve education and other areas, lessening the allure of extremism.
Copyright 2018 The Associated Press. All rights reserved. This material may not be published, broadcast, rewritten or redistributed. We strive to uphold our values for every story published.