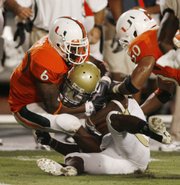 Jacory Harris watched Georgia Tech run over, past and around Miami's defense on the opening series of the game, barely showing any emotion on the sideline.
He saved it all for the field.
And Georgia Tech's hex over Miami? It's over.
Cool and in control throughout, Harris completed 20 of 25 passes for 270 yards and three touchdowns, and the 20th-ranked Hurricanes snapped a four-game losing streak against No. 14 Georgia Tech with a 33-17 victory Thursday night.
Miami scored on its first three possessions, built a 24-3 lead shortly after halftime and outgained the Yellow Jackets by nearly a 2-to-1 margin.
"One thing I congratulate this team on is how we stay focused," Harris said. "You know, there's a lot of people around campus and in the community, they praise us now and they've got our back and all this. But the thing I know about this team, we're not (letting) anything go to our head."
Miami outgained Georgia Tech, 454-228. Graig Cooper ran for 93 yards, Javarris James rushed for 72 more and a touchdown, and LaRon Byrd caught five passes for 83 yards and another score.
Copyright 2018 The Associated Press. All rights reserved. This material may not be published, broadcast, rewritten or redistributed. We strive to uphold our values for every story published.