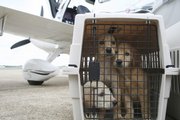 Tampa, Fla. — Lady Di is a lovely purebred collie with a pleasant disposition, just like lots of other dogs dumped at shelters in areas that lack anywhere near enough would-be owners. Unlike all but a lucky few of those animals, she got a plane ride away from death row.
Along with one of her sick, emaciated pups, Lady Di recently was brought to a shelter in the central Alabama interstate town of Clanton by a man who first tried to give her away in a Walmart parking lot.
The small shelter north of Montgomery was already heaving; healthy dogs and cats are euthanized by the hundreds every week because there's just no more room.
Shelter workers knew the collies stood a better chance somewhere else.
That's when Lady Di met private pilot Jeff Bennett, a volunteer with Pilots N Paws, a group that moves pets from overwhelmed shelters to communities, often ones with higher median income, where they'll stand a better chance of adoption. The pilots donate their time, planes and fuel.
This week, Pilots N Paws is seeking to transport 5,000 animals to safety in a flurry of flights designed to raise awareness of the charity and draw attention to the importance of spaying and neutering.
Bennett, 50, is a retired Florida Keys businessman with a soft spot for homeless dogs. He's got a Cirrus SR22, a zippy little four-seat plane, and is always looking for an excuse to get above the clouds.
So he flew to Montgomery recently to bring the collies and a dozen other dogs and puppies back to Florida, where rescue groups stood ready to take them in until homes could be found.
The "mission," as Bennett calls his rescue flights, brought the number of animals he's transported for Pilots N Paws to 124 — including snakes, lizards, a chicken and a potbellied pig — since signing on with the charity about a year ago.
"It's a great feeling to know that you're saving some animals and hopefully finding some good homes for them," says Bennett, noting the millions of dogs and cats euthanized in U.S. shelters each year. "What I'm doing is pretty small, but you can only do what you can."
Copyright 2018 The Associated Press. All rights reserved. This material may not be published, broadcast, rewritten or redistributed. We strive to uphold our values for every story published.