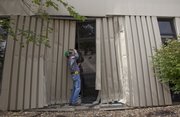 A KU on Wheels bus ran into the side of a science building on Kansas University's West Campus, causing damage to a wall but no injuries.
The accident occurred shortly before 12:38 p.m. Tuesday, after the bus' driver had stopped at the Higuchi Hall parking lot near 21st Street and Constant Avenue, said Capt. Schuyler Bailey of the KU Public Safety Office.
"The driver pulled off to park in the parking lot, got off the bus — possibly without setting the brake — and it rolled into the building," Bailey said.
Two KU students had been on the bus at the time, Bailey said, but neither was injured.
First reports of the crash came via Twitter, where several users were also quick to post pictures of the bus.
Both the building's exterior wall and the bus were damaged, but financial estimates of the damage are not yet available, Bailey said. The building was not evacuated.
Higuchi Hall, 2101 Constant Ave., is home to the Kansas Biological Survey, including several of its research units: the Central Plains Center for Biological Assessment, the Kansas Applied Remote Sensing Program, and the Kansas Field Station and Ecological Reserves and the Natural Heritage Inventory.
It's also home to restrooms frequently used by KU on Wheels drivers, particularly those on the "Park & Ride Express" route that runs between main campus and the Park & Ride lot northwest of Clinton Parkway and Iowa Street.
"That's why the bus was up in that area," said Danny Kaiser, assistant director of KU Parking & Transit. "Normally that wouldn't be on the route."
Both students who had been on the bus apparently were anxious to catch another bus, so that they could make it to class on time, Kaiser said. As far as he knows, the students made it.
The bus is owned by the city of Lawrence, was purchased in 2006 using federal funds, and is operated by MV Transportation, the contractor that runs KU on Wheels and the city's Lawrence transit System, also known as the T.
Repairs for the bus, which weighs 33,000 pounds, will be handled by MV Transportation.
"Nobody got hurt," Kaiser said. "Stuff can be repaired."
Mike Schmidt, a structural engineer with Professional Engineering Consultants in Lawrence, said that the exterior wall that was damaged was non-load bearing and consequently the building was not in danger of further damage.
The room inside suffered damage to cabinetry, the ceiling and contents to the point that the room is uninhabitable at the time being. He said workers were securing the building until permanent repairs could be made.
A cost of those damage was not immediately available, but Don Steeples, senior vice provost, said that MV Transportation's insurance carrier would be expected to cover the cost of repairs to the building.
Copyright 2017 The Lawrence Journal-World. All rights reserved. This material may not be published, broadcast, rewritten or redistributed. We strive to uphold our values for every story published.