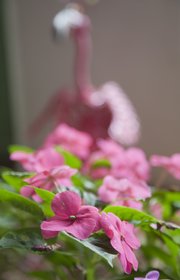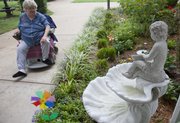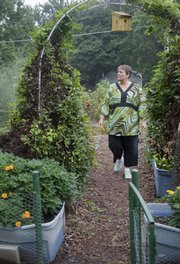 Sometimes the real beauty of a garden is in the gardeners, and the gardeners at Babcock Place are an admirable example.
"We all take care of each other here. We've got our own community," Jerry Lathrom tells me as we stroll around the semi-screened garden areas behind the building.
Lathrom, who works night security at the facility, started planting flowers and weeding at Babcock Place, 1700 Mass., a few years ago when he noticed the gardens looking a little neglected. The efforts of a volunteer group who had helped with grounds maintenance were dwindling, and the Lawrence-Douglas County Housing Authority is just able to keep up with the mowing and general upkeep.
This past spring, Lathrom said, "You buy it, and I'll plant it." He knew how the flowers brightened residents' days and made their outdoor space more enjoyable.
Lathrom's offer got him about 500 plants to fill the space around the patio and tuck in to the landscape beds. Impatiens create the biggest impact, brightening the shady area under the overhang and blooming all summer long with their cheery array of color.
Residents also have contributed marigolds, petunias and dusty miller for season-long color in sunnier areas. For more permanent fixtures, Lathrom has planted a few roses, daylilies, Russian sage and hydrangeas that are his personal favorite. A moonflower shows off its large, white, trumpet-shaped blooms near the edge of the patio.
Lathrom's second favorite plant, the low-growing moss rose, is much like Lathrom in its ability to withstand stressful conditions and keep blooming. The resilient perennial grows where other plants give up, filling the toughest spots in the garden.
Although Lathrom deservedly takes pride in his work, he says he relies on the help of others to do all he does.
"There are a lot of good people who contribute to the gardens," Lathrom says as he rattles off offerings and assistance from various residents.
Loretta James and Joyce Blair are two individuals who often help Lathrom. James has limited mobility that keeps her from doing some of the necessary up-and-down gardening chores, but she makes the most of her abilities and resources. She works along the sidewalks and uses her motorized chair to transport items like fertilizer or weeds that have been removed.
James and Blair also share a plot in the vegetable garden where they grow tomatoes and cucumbers. Although James has gardened for years, this is Blair's first year to grow vegetables. James chuckles when Blair says she did not know how many cucumber plants to plant; Blair's few vines have produced more than enough cucumbers to share with other residents. Blair has also been able to make refrigerator pickles with the fruits of her labor.
A few other residents use plots in the vegetable garden to grow lettuce, tomatoes, asparagus, carrots, okra, Swiss chard and basil, with a few flowers to brighten the space.
Copyright 2018 The Lawrence Journal-World. All rights reserved. This material may not be published, broadcast, rewritten or redistributed. We strive to uphold our values for every story published.