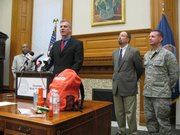 Topeka — 12:20 p.m.
State officials have designated September as "Kansas Preparedness Month" and on Tuesday urged Kansans to take some time out to plan for potential emergencies
Emergency responders said families and businesses should have a plan detailing what everyone should know and do in the event of a tornado, floor or other emergency. The plan should include a safe shelter, location of supplies, communication plans and rendevous points.
Officials also urged that people prepare a home emergency kit that includes a 3-day to 5-day supply of non-perishable food and water; flashlights, battery-powered radio, extra batteries, first aid kit, filter masks, wrench or pliers, plastic sheeting and duct tape, garbage bags and plastic ties, medicines, important documents, and infant needs, if necessary.
9 a.m.
Authors will be honored at 2 p.m. today during the 2009 State Notable Books Medal presentation at the Capitol.
The list of Notable Books this year includes:
Amelia Earhart: The Legend of the Lost Aviator, by Shelley Tanaka of Ontario, Canada; Artfully Done Across Generations, by Friends of the Wichita Art Museum; Burn, by Kathleen Johnston of Baldwin City; Charlatan: America's Most Dangerous Huckster, the Man Who Pursued Him, and the Age of Flimflam, by Pope Brock of New York; A Curse Dark as Gold, by Elizabeth Bunce of Lenexa; The Guide to Kansas Birds and Birding Hot Spots, by Bob Gress and Peter Jenzen, both of Wichita; Hometown Appetites: The Story of Clementine Paddleford, the Forgotten Food Writer Who Chronicled How America Ate, by Kelly Alexander of Chapel Hill, N.C., and Cynthia Harris of Wichita; Kansas Opera House: Actors and Community Events, by Jane Rhoades of Wichita; Making History Quilts and Fabric From 189-1970, by Barbara Brackman of Lawrence; Marco Polo Didn't Go There: Stories and Revelations from One Decade as a Postmodern Travel Writer, by Rolf Potts of Gypsum; The Nature of Kansas, by Beverley Worster of Lawrence; A Passion for Nature: The Life of John Muir, by Donald Worster of Lawrence; The Pizza Hut Story, by Robert Spector of Seattle; Seeding Civil War: Kansas in the National News, by Craig Miner of Wichta; and Survival of Rural America: Small Victories and Bitter Harvests, by Richard Wood of Denver.
Copyright 2018 The Lawrence Journal-World. All rights reserved. This material may not be published, broadcast, rewritten or redistributed. We strive to uphold our values for every story published.