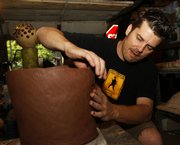 Ben Ahlvers is a full-time arts education coordinator, but his passion is with the fanciful creatures, human figures and oversized hammers he fashions from clay.
The nationally recognized ceramic artist was chosen to receive a fellowship from the Kansas Arts Commission to attend an artist residency in Montana. But after Kansas officials cut the commission's budget midyear by $300,000, he didn't receive the $1,000 check.
"They were still going to have a reception and I joked to somebody that I was going to go and eat $1,000 worth of finger food," said Ahlvers, 35, who said he and his wife had to live off their credit cards and sell more of his artwork to fund the trip.
"The $1,000 would have made it a lot easier and I wouldn't have had to fret as much," he said.
States across the country are slashing their arts funding for the second year in a row as they cope with falling tax revenues. Those cuts, which often happen during recessions, are a serious blow to arts agencies and individual dancers, painters and actors at a time when private donations are down and many art organizations are being more selective in what they produce.
The National Assembly of State Arts Agencies estimates states reduced their arts funding an average of 7 percent in the fiscal year that began July 1. That average doubles to 14 percent when Minnesota is not included because the state almost tripled its art budget to $30.2 million thanks to a new sales tax.
States did get a boost this year in funding from the National Endowment for the Arts and some one-time job preservation grants through the federal stimulus bill. But administrators said the money won't make up for all the funding they've lost.
Overall, states contribute just 2 percent of the total annual pool of arts revenue in the U.S., according to Americans for the Arts. While a seemingly small percentage, arts advocates say organizations use those dollars to leverage donations from local governments, match federal funding from the National Endowment for the Arts and attract the private donations that make up the bulk of their annual budgets.
That private giving has also suffered during the recession. According to the Center on Philanthropy at Indiana University, private donations to the arts decreased 6.4 percent between 2007 and 2008, the latest years available, and has likely fallen further this year.
The cuts in arts aren't universal. Besides Minnesota, a handful of other states, such as Oregon, New York and Texas, have seen increases, either because their states are in better shape or because of one-time surges of new revenue.
The arts typically take a hit during recessions, as state budget writers are forced to balance theater expenses and sculpture grants against cuts to social service agencies, education or transportation. Arts budgets have fallen 20 percent in the past two years, compared with 38 percent during the 2001-2004 recession and 28 percent during the early 1990s, said Angela Han, spokeswoman for the National Assembly of State Arts Agencies.
But arts agency leaders said legislatures make a mistake when they look at the arts as a luxury as opposed to a key source of jobs and community identity.
"I don't think any government entity in the United States has ever understood the true value of the arts in terms of economic development, arts education or in community revitalization," said Sue Weiner, executive director of the Georgia Council for the Arts.
Back in Lawrence, Ahlvers recently found out that the Kansas commission may get funding to give him his $1,000. But with state revenue still hurting, he'll believe it when he sees it.
"As an artist, I think of course they (states) should put money in the arts," he said. "But there's another side of the arts that thrives on an underdog side of life."
Copyright 2018 The Associated Press. All rights reserved. This material may not be published, broadcast, rewritten or redistributed. We strive to uphold our values for every story published.