Photo Gallery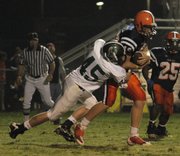 at Olathe East 29, Free State 20
at Olathe East 29, Free State 20
Olathe — It takes more than good players to win a football game. It takes playing good football. Free State High flashed enough speed and skill in Friday night's season-opener at College Boulevard Activity Center to remove doubt as to whether good football players dot the roster. As for playing good football, not for openers, not by a long shot.
Olathe East defeated Free State, 29-20, in large part because it did not commit any turnovers, and the Firebirds had five.
Even so, back-to-back, fourth-quarter holding penalties — including one that nullified what would have been a touchdown pass from Camren Torneden to Chandler Schmidt — irked the Free State coach most.
"A ton of mistakes," Bob Lisher said afterward. "You turn the ball over five times, I don't care who you're playing, it's tough to win. What the kids have to realize is we turned it over five times and still took the lead (on the play called back). But then we had back-to-back holding penalties, and that took the lead away. When you do those things, you're asking for trouble."
Lisher was careful to send credit the way of O-East, but couldn't deny the Firebirds were beaten by more than the opponent.
"That's a good football team," Lisher said. "You can't allow them that many opportunities. You have to take care of the ball, and we didn't do a good job of that tonight. Then defensively we played an average game. We've got to be better on defense. We've got to compete better for the ball, and we will. We will. We have good athletes back there, but we've got to understand that they have good athletes, too. And we've got to start making some plays and not let them make plays all the time when they want to throw the football. All in all, we're going to keep working because I know we can be a good football team if we don't turn it over five times."
The sloppy play set in right away for Free State, which started last season 1-2 and finished with a 9-3 record and made it to the Class 6A state title game. Quarterback Torneden, who rushed for 61 yards, passed for 151 yards and returned a kickoff 55 yards, was intercepted three times, two coming on the first two Free State possessions.
The Hawks, who went 9-1 last season, took advantage, going ahead 10-0 in the first quarter. Free State battled back, scoring its first touchdown on a four-yard Torneden run with 11:19 left in the half. After a Dylan Ramsey 25-yard field goal gave O-East a 13-6 lead, Free State used a little trickery nearly to take the lead with 1:03 left in the half.
A double pass resulted in Chandler Schmidt catching a backwards pass from Torneden and then firing a bomb to Connor Stremel. Looking like an outfielder laying out for an ESPN Web gem, Stremel made the play of the night, but even he was kicking himself afterward.
"It was just tough all around," Stremel said. "We were in it the whole entire game, even with all those bad plays. Our defense let up a little bit, and our offense couldn't complete passes. It was bad."
Stremel blamed himself for one of the four intercepted passes. Torneden's pass bounced off his hands and high into the air.
"I got a little shaky, saw the defense, and it bounced off me when I looked," Stremel said.
Stremel nearly came up with an interception, but Chris Fields came down with the ball on the two-yard line, and Olathe East scored to go up, 20-12, two plays later.
"I just didn't rip it," Stremel said. "We both had it in our hands, and he came out with it."
Stremel had four receptions for 78 yards, 36 on his highlight touchdown catch that drew Free State within 13-12. As with all three of their touchdowns, the Firebirds failed to score any points on conversion attempts.
"It was the best catch I probably ever had," Stremel said. "I saw Channie get rushed by three people, and he put it right up there. It felt amazing."
Afterward, he felt deflated. He had plenty of company on the bus ride back to Lawrence.
Copyright 2018 The Lawrence Journal-World. All rights reserved. This material may not be published, broadcast, rewritten or redistributed. We strive to uphold our values for every story published.