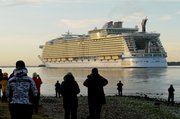 Helsinki, Finland — It's five times larger than the Titanic, has seven neighborhoods, an ice rink, a golf course and a 750-seat outdoor amphitheater. The world's largest cruise ship is finally finished and Friday it began gliding toward its home port in Florida.
The Oasis of the Seas will meet its first obstacle today when it exits the Baltic Sea and must squeeze under the Great Belt Bridge, which is just 1 foot taller than the ship — even after its telescopic smokestacks are lowered.
To be on the safe side, the ship — which rises about 20 stories high — will speed up so that it sinks deeper into the water when it passes below the span, said Lene Gebauer Thomsen, a spokeswoman for the operator of the Great Belt Bridge.
Once home, the $1.5 billion floating extravaganza will have more, if less visible, obstacles to duck: a sagging U.S. economy, questions about the consumer appetite for luxury cruises and criticism that such sailing behemoths are damaging to the environment and diminish the experience of traveling.
Travel guide writer Arthur Frommer has railed against Oasis and other mega ships he calls "floating resorts," suggesting that voyages on such large vessels are "a dumbing down of the cruise experience."
Oasis of the Seas, which is nearly 40 percent larger than the industry's next-biggest ship, was conceived years before the economic downturn caused desperate cruise lines to slash prices to fill vacant berths.
"Obviously we did not want or anticipate she'd be born into the most significant economic downturn since the Depression," Royal Caribbean International President & CEO Adam Goldstein told The Associated Press in an interview earlier this month. "Even in this environment, we're excited about her."
It sets sail as cruise lines clamor to increase capacity, adding newer — and bigger — ships to their fleets.
The Oasis of the Seas has 2,700 cabins and can accommodate 6,300 passengers and 2,100 crew members. Company officials are banking that its novelty will help guarantee its success.
The enormous ship features various "neighborhoods" — parks, squares and arenas with special themes. One of them will be a tropical environment, including palm trees and vines among the total 12,000 plants on board.
Copyright 2017 The Associated Press. All rights reserved. This material may not be published, broadcast, rewritten or redistributed. We strive to uphold our values for every story published.