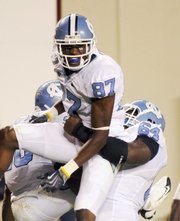 Blacksburg, Va — North Carolina's defense is as good as advertised. T.J. Yates, Shaun Draughn and the offense are improving, too.
Casey Barth kicked a 21-yard field goal on the final play, and the Tar Heels' defense, ranked seventh in the nation, stopped No. 14 Virginia Tech all night long in a 20-17 victory on Thursday night.
One week after blowing an 18-point lead in a 30-27 home loss against Florida State that had them reeling, the Tar Heels put their troubles in the past and handed the Hokies their second loss in a row. Twelve days earlier, Tech was in the national championship hunt.
"I've never really had this feeling before," Yates said after making several key completions. "Kicking it at the last second? It just sends chills down your spine."
The Tar Heels (5-4, 1-3 Atlantic Coast Conference) got their first conference win after forcing a fumble by Ryan Williams at his own 24 with 2:02 left and running out the clock.
Barth's field goal, his second in the final three minutes, just made it official.
"We knew we had to get back to the drawing board," Draughn said after running for 77 yards. "To come back and play the way we did definitely speaks volumes about out team."
The reverse may be true of the Hokies (5-3, 3-2), who until losing to No. 11 Georgia Tech 12 days ago were in the thick of the national championship picture and feeling good.
Now, are their slim ACC championship game chances probably also squandered?
"I think the motivation is to come out here so you don't feel like this again," linebacker Cody Grimm said, dismissing a 10-win season as a motivator. "Ten wins is one thing, but I don't want to feel like this any more, and the only way to do that is to win."
No one felt worse than Williams, who started the night averaging 119 rushing yards, gained 96 and was hoping to lead the team down the field to a win until he lost the ball.
Copyright 2018 The Associated Press. All rights reserved. This material may not be published, broadcast, rewritten or redistributed. We strive to uphold our values for every story published.