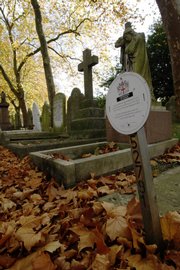 London — So you think London, population 8 million, is crowded with the living?
There are many millions more under the soil of a city that has been inhabited for 2,000 years. And London is rapidly running out of places to put them.
Now the city's largest cemetery is trying to persuade Londoners to share a grave with a stranger.
"A lot of people say, 'I'm not putting my Dad in a secondhand grave,"' said Gary Burks, superintendent and registrar of the City of London Cemetery, final resting place of close to 1 million Londoners. "You have to deal with that mindset."
The problem is a very British one. Many other European countries regularly reuse old graves after a couple of decades. Britain does not, as a result of Victorian hygiene obsession, piecemeal regulation and national tradition. For many, an Englishman's tomb, like his home, is his castle.
That view is also common in the United States, which like Britain tends to regard graves as eternal and not to be disturbed — although the U.S. has a lot more space, so the burial crisis is less acute.
In much of Britain, reusing old graves remains illegal, but the City of London cemetery is exploiting a legal loophole that allows graves in the capital with remaining space in them to be reclaimed after 75 years.
Burks points to a handsome marble obelisk carrying the details of the recently departed man buried underneath. The name of a Victorian Londoner interred in the same plot is inscribed on the other side. The monument has simply been turned around for its new user — whose family, Burks says, got a fancy stone monument for much less than the market price by agreeing to share.
Since a change in the law last year, cemetery staff have begun the even more sensitive process of digging up old remains, reburying them deeper and putting new corpses on top, in what have been dubbed "double-decker" graves. They'll be sold for the same price as the cemetery's regular "lawn" graves — those in open grassy areas — or about $3,200.
Burks, a burly man who began working at the cemetery as a groundsman and gravedigger almost 25 years ago, said reusing graves will buy the rapidly filling cemetery six or seven more years of burials.
"We are doing our damnedest to make the cemetery more sustainable," he said.
So far, no other cemeteries have followed City of London in reusing graves. Many Britons have an instinctive resistance to the idea of grave-sharing.
"I don't even want to think about it," said 29-year-old London receptionist Temi Oshinowo. "It's not showing respect. It doesn't matter whether or not the person has been buried for 25 years or 100 years, that is their space and you should give them respect."
It's an attitude that frustrates advocates of grave reuse. Julie Rugg of the Cemetery Research Group at the University of York in northern England jokes that Britain's problem is that "we weren't invaded by Napoleon." Countries that adopted the Napoleonic Code have been reusing graves for almost 200 years.
"We just need to get on with reusing graves," Rugg said. "Grave reuse gifts back to us our Victorian cemeteries to use again."
Copyright 2018 The Associated Press. All rights reserved. This material may not be published, broadcast, rewritten or redistributed. We strive to uphold our values for every story published.