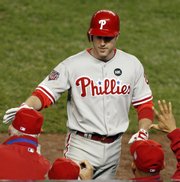 New York — Look out for Cliff Lee, Chase Utley and this New Red Machine.
Lee outdueled CC Sabathia, Utley homered twice, and the Philadelphia Phillies kept rolling through October, beating the New York Yankees, 6-1, on a misty Wednesday night in the World Series opener.
The defending champion Phillies shut down Alex Rodriguez & Co. in the first Series game at the new billion-dollar Yankee Stadium. Trying to become the first NL team to repeat since Cincinnati in 1975-76, the Phils' 17-4 postseason run is the best in league history.
Big Red Machine, meet your match.
"We have confidence. We know we have a good team," Utley said.
Game 2 is tonight, with Pedro Martinez pitching for the Phillies against A.J. Burnett.
Ryan Howard reprised his MVP performance, doubling twice and driving in the final run for the Phillies. Rodriguez, however, went hitless and struck out three times in his Series debut.
Hardly looking like the 2-to-1 underdogs they are, the Phillies were in such control that many fans left before the final out.
Lee bamboozled the Yankees with a spiked curveball, deceptive changeup and his usual pinpoint fastball, pitching a six-hitter while striking out 10 without a walk.
Lee blanked the Yankees until a run scored on shortstop Jimmy Rollins' throwing error in the ninth inning. The lefty improved to 3-0 with an 0.54 earned-run average this postseason. He really seemed to enjoy himself, too.
If Lee felt any anxiety in his Series debut, facing the team that led the majors in wins, homers and runs, it didn't show. And if the Phillies were supposed to be intimidated of the pictures of Babe Ruth and all the Yankees greats on the giant videoboard, it didn't happen.
"To be honest I really never have been nervous in the big leagues. This is what I wanted to do my whole life. This is what I take pride in. For me there is no reason to be nervous," Lee said.
"Game time is the time go out there and have fun and let your skills take over. It's kind of weird. Boils down to confidence and trusting your teammates," he said.
Copyright 2018 The Associated Press. All rights reserved. This material may not be published, broadcast, rewritten or redistributed. We strive to uphold our values for every story published.