Topeka — 2:37 p.m.
Gov. Mark Parkinson on Wednesday said more state budget cuts are likely, which raises the possibility of more reductions in education funding.
During a news conference, Parkinson provided no details but said he would unveil a procedure for more cuts next week after state budget experts reassess revenue projections for the rest of the current fiscal year.
But, Parkinson vowed, the budget will be in balance when lawmakers return for the 2010 legislative session that starts in January.
"I'm going to take all the heat," he said.
Parkinson has earlier said he wouldn't support any more reductions in social services and public safety.
With public school funding making up half the state budget, many lawmakers have said further cuts there cannot be avoided.
Because of falling tax revenues, the state budget has been cut four times this year.
In other issues, Parkinson:
-- Re-stated that he will not run for governor in 2010. Parkinson, a Democrat, had urged lawyer and businessman Larry Gates, who is chairman of the Kansas Democratic Party, to run. But Gates declined.
-- Said Kansas should be more aggressive in developing export markets. Parkinson returned earlier this week from a trade mission to Taiwan.
-- Said an offer made by the state to lure Cerner Corp. to build an office complex and new Kansas City Wizards stadium in Kansas City, Kan was the state's final offer.
11:10 a.m.
In his first public comments since returning earlier this week from a trade trip to Taiwan, Gov. Mark Parkinson on Wednesday emphasized the importance of getting approval of a high voltage power line in Kansas.
Parkinson said the state is making a "full court press" for the so-called V plan, a proposed $653 million, 765-kilovolt transmission line to link western Kansas with Wichita and lines in Nebraska and Oklahoma.
Parkinson and other state officials say the line is necessary to develop wind energy in western Kansas and move that energy to other regions.
The board of the Southwest Power Pool, which oversees the transmission system in nine states, voted on Tuesday to put the project back on its priority list. Earlier this month, a strategic planning committee had left the project off the list, which prompted concerns from Kansas officials and a letter from Parkinson urging the panel to reconsider.
A final decision by the SPP won't be made until next year.
In a speech to the State Workforce Board on Wednesday, Parkinson said that improvements to the transmission line system were as economically important to Kansas as the proposed federal biosecurity lab in Manhattan and efforts to win national designation of the Kansas University Cancer Center.
In general comments about the economy, Parkinson said he hoped drops in the state unemployment rate over the past two months were a signal of an improving economy. Kansas had a 6.9 percent jobless rate for September.
Concerning the health care debate in Congress, Parkinson said that he and four other governors spoke yesterday with Vice President Joe Biden on a conference call. Parkinson said he and the other governors urged Biden to make sure that if a reform plan expands Medicaid, that it be paid for by the federal government.
Parkinson said he hoped Congress could adopt a plan that expands health care coverage and controls costs.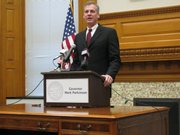 Copyright 2018 The Lawrence Journal-World. All rights reserved. This material may not be published, broadcast, rewritten or redistributed. We strive to uphold our values for every story published.