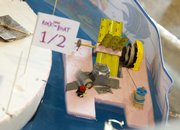 Making a boat from empty water bottles and rat traps doesn't seem like an idea that would stay afloat. Hundreds of area high school students, however, took on this challenge.
Kansas University's School of Engineering held its 22nd annual high school design competition — Rock (Chalk) the Boat — Tuesday.
"This is an annual competition we host for high school students," said Steven Qiu, the design contest's coordinator, "to spark their interest in engineering."
Fifty teams from 15 schools, including Lawrence High School and West Junior High, competed at the event.
Organizers asked the students, in grades nine through 12, to create boats from recycled materials that could propel the crafts through several obstacles. The first phase of competition required the boats to race down a 20-foot-long water track. The next course had the boats going around and around.
"They get two minutes allotted to go as many times around the circular track as possible," Qiu said, "so it's like a distance competition."
The competition was not only meant to prod the aspiring engineers to think outside the box but also was a recruiting opportunity for KU.
"I was able to come to the high school design competition when I was in high school," said Qiu, now a junior at KU. "I was able to learn a lot from this competition. ... I think it's a nice way to recruit people to the School of Engineering, to help the school out, to help determine their future."
Copyright 2018 The Lawrence Journal-World. All rights reserved. This material may not be published, broadcast, rewritten or redistributed. We strive to uphold our values for every story published.