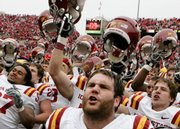 Kansas St. 20, Colorado 6
Manhattan — Anger filled Bill Snyder's eyes. He chopped his hand down on the lectern, rattled off the litany of offensive mistakes, the inopportune penalties, the missed assignments.
So what if Kansas State had just beaten Colorado to take control of the Big 12 North?
"You don't want to hear what I had to say to them," Snyder said after Kansas State's 20-6 victory over Colorado on Saturday.
Humbled by an early loss to Louisiana-Lafayette and a beatdown by Texas Tech, Kansas State (5-3, 3-1) is alone atop the Big 12 North with its best conference start since 2000, back in Snyder's first stint as coach.
K-State had an impressive 62-14 rout over Texas A&M; last week, dominating every phase of the game for a 100-point turnaround from the previous week.
Against CU, the defense played well, getting two interceptions from Emmanuel Lamur and four total turnovers while holding the Buffaloes to 244 total yards.
Daniel Thomas ran for 145 yards and a touchdown for the Wildcats.
Iowa State 9, Nebraska 7
Lincoln, Neb. — Nebraska matched a school record by committing eight turnovers, including four inside the Iowa State 5, and the Cyclones upset the Cornhuskers for their first victory in Lincoln since 1977.
Iowa State also ended a 15-game Big 12 losing streak in games played away from Ames, Iowa.
Zac Lee was intercepted by Michael O'Connell and Jesse Smith in the final 3 minutes.
Iowa State (5-3, 2-2), an 181⁄2-point underdog, scored on Grant Mahoney's 52-yard field goal and Jerome Tiller's 47-yard touchdown pass to Jake Williams. Tiller was filling in for regular starter Austen Arnaud, who was out with an injury to his throwing hand.
Tiller ran 19 times for 65 yards and completed nine of 19 passes for 102 yards for the Cyclones. Jeremiah Schwartz picked up 50 yards on 22 carries as the replacement for Alexander Robinson.
No. 14 Oklahoma St. 34, Baylor 7
Waco, Texas — Zac Robinson completed 23 of 27 passes for 250 yards with three touchdowns and Oklahoma State stretched its winning streak to five games.
The Cowboys (6-1, 3-0 Big 12), who have won their last four games without injured running back Kendall Hunter or suspended receiver Dez Bryant, led 10-0 after their first two possessions.
Texas A&M; 52, No. 21 Texas Tech 30
Lubbock, Texas — Cyrus Gray scored four touchdowns to lead Texas A&M; past Texas Tech, snapping a three-game losing streak for the Aggies.
A&M; (4-3, 1-2 Big 12) hadn't won in Lubbock since 1993.
It was quite a turnaround from the 62-14 loss last week to K-State. A&M; had 334 total yards in the first half Saturday a week after they had 301 for the entire game.
Copyright 2017 The Associated Press. All rights reserved. This material may not be published, broadcast, rewritten or redistributed. We strive to uphold our values for every story published.