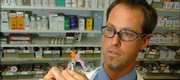 An outbreak of H1N1 Swine Flu was reported in Mexico in April 2009. By the end of May, it had spread across the U.S., with all 50 states reporting cases.
Washington — At least one pig from Minnesota has tested positive for the H1N1 virus, the U.S. Department of Agriculture said on Monday, the first case of a pig contracting the virus in the United States.
Agriculture Secretary Tom Vilsack said in a statement that USDA officials have begun to reach out to U.S. trade partners and international organizations to emphasize that H1N1, also known as swine flu, cannot be contracted by eating pork products.
Officials also said the infection of a so-called show pig doesn't indicate an infection of commercial herds because show pigs are in separate segments of agriculture than the swine industry.
Copyright 2018 The Associated Press. All rights reserved. This material may not be published, broadcast, rewritten or redistributed. We strive to uphold our values for every story published.