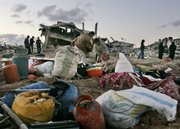 Geneva — The U.N. Human Rights Council voted Friday to endorse a Gaza war crimes report that calls on Israel and Hamas to carry out credible investigations into alleged abuses — or face possible referral to international war crimes prosecutors.
The move — which was opposed by six nations, including the United States — means Israel could find itself facing a request at the U.N. Security Council to refer the case to prosecutors at the International Criminal Court in The Hague, a move likely to be blocked by Washington.
Still, Friday's decision could have far-reaching implications for the way the global body deals with war crimes claims, experts said.
It also keeps attention on the report, compiled by an expert panel chaired by respected South African jurist Richard Goldstone, just as President Barack Obama tries to restart the Middle East peace process. Almost 1,400 Palestinians and 13 Israelis were killed during the Dec. 27-Jan. 18 conflict.
The 575-page document concluded that Israel used disproportionate force, deliberately targeted civilians, used Palestinians as human shields and destroyed civilian infrastructure during its incursion into the Gaza Strip to root out Palestinian rocket squads.
It also accused Palestinian armed groups including Hamas, which controls Gaza, of deliberately targeting civilians and trying to spread terror through years of rocket attacks on southern Israel.
The report recommends that the 15-member Security Council require both sides in the conflict to show within six months that they are carrying out independent and impartial investigations into alleged abuses.
If they are not, the matter should be referred to prosecutors at the International Criminal Court in The Hague, Netherlands, the report says.
In order to be adopted, a U.N. Security Council resolution must get nine yes votes, and not be vetoed by a permanent member. The U.S. is likely to use its veto to block any call to get the International Criminal Court involved in the dispute over Gaza or to take action against Israel.
"Politically, this will die in the Security Council," said David M. Crane, an international law professor at Syracuse University and former prosecutor of the Sierra Leone tribunal, which indicted former Liberian President Charles Taylor.
"Ultimately what is going to be done about the report is going to be a political decision and not a legal and procedural one," Crane said. But he added: "In fact I think that we will see more of these, and I'm not saying that's a bad thing."
Copyright 2018 The Associated Press. All rights reserved. This material may not be published, broadcast, rewritten or redistributed. We strive to uphold our values for every story published.