Late Night in the Phog, 2009
Photo Gallery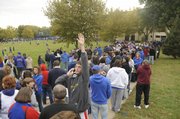 Late Night in the Phog 2009
Allen Fieldhouse filled up with fans Friday night for yet another start to the basketball season celebrated in Late Night fashion.
The KU men's and women's basketball teams officially began their practices and got their first chance to entertain a fieldhouse crowd — with the skits, videos and musical numbers that were part of the 25th annual Late Night in the Phog followed by scrimmage games.
Jason Stubbs and Larry Frederick both make the pilgrimage to Allen Fieldhouse each year for the event and are excited about the potential of this 2009-2010 season.
"We're excited to start another season, preseason No. 1, and looking for good things," Frederick said.
Fans young and old, from near and far, were able to attend the show for the cost of a donated can of food.
Fans say that's a small price to pay to see their basketball teams for the first time. "It's really loud and everyone gets into it," said Laura Henry. "It gets us really pumped up for the basketball season."
The event was televised on ESPN as part of its Late Night coverage around the country.
Copyright 2018 The Lawrence Journal-World. All rights reserved. This material may not be published, broadcast, rewritten or redistributed. We strive to uphold our values for every story published.