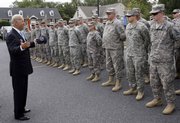 Washington — Early in the 2008 campaign, when high hopes hadn't given way to harsh realities, presidential candidate Joe Biden told his wife Jill, "I can picture myself sitting in the Oval Office. I can picture who I'd pick up the phone and call."
It turns out that Biden is getting calls from the president, not making them. But he's taken to the supporting role nonetheless, as he re-redefines the job of vice president after Dick Cheney's unprecedented grasp on the levers of power in the George W. Bush administration.
Biden's to-do list was defined at the outset by two central issues for President Barack Obama: keeping the U.S. on track to get out of Iraq and making sure that hundreds of billions of economic stimulus dollars are spent swiftly and smartly. And nothing illustrates how he has cemented his personal relationship with Obama better than his behind-the-scenes role as skeptic-in-chief in hour upon hour of private deliberations over what the U.S. should do next in Afghanistan.
"You can always count on him to ask probing questions, and he has," says David Axelrod, a senior adviser to Obama.
Busy Biden
Biden is busy. Phone calls to foreign leaders alternate with mediating disputes between governors and mayors over how to spend highway money. Flights to Baghdad are interspersed with trips to Boston. His policy turf has expanded as Obama calls on him to cajole for health care votes, tend to U.S. alliances abroad, promote nuclear nonproliferation and take on more political appearances as the midterm election season approaches.
He's made eight foreign trips this year, including three to Iraq. And next week he's off to meet leaders in Poland, Romania and the Czech Republic who have a big stake in the administration's revamped plans for a European missile shield. On Capitol Hill, the vice president makes it a point to hit the StairMaster in the Senate gym at least once a week to help stay connected to former colleagues.
Growing into his role
Over the months, Obama and Biden gradually have gotten more comfortable with each other in their respective roles as decider and adviser— something not initially taken for granted.
Early on, "there was a lot of uncertainty" about how Obama would use Biden, says Ron Klain, the vice president's chief of staff, adding that the chemistry between the two has worked out better than some had expected.
"Their most important interactions," says Axelrod, "are interactions that no one actually sees."
That's not to say that Biden's transition from lone ranger to a supporting role under Obama has been seamless.
At age 66, Biden ever will be Biden, and that means a shoot-from-the-lip style that feeds stereotypes of him as both a straight talker and a gaffe machine.
Over-the-top rhetoric that might have provoked a mere eye-roll when he was a senator looms larger when uttered as vice president. Critics point to any number of off-key notes: Biden angered Russia with his comments about its "withering economy;" he irked Iraq's leaders by pushing them to be more accountable; he triggered a day of backtracking after swearing off trains and planes because of swine flu worries.
And when Biden declared that no matter how hard the administration tries to do right, "there's still a 30 percent chance we're going to get it wrong," he got a public poke from Obama.
"You know, I don't remember exactly what Joe was referring to, not surprisingly," Obama told reporters.
Axelrod waves off the significance of such incidents.
"Everybody's strength is also their weakness," Axelrod says. "Biden is honest. He's blunt, sometimes to a fault, but the trade-off isn't even close."
Role models
Biden's vice presidency is shaping up as a mix of his two Democratic predecessors, two of the most influential vice presidents before Cheney. Walter Mondale served primarily as a troubleshooter and adviser to Jimmy Carter and avoided specific projects. Al Gore went all-out for Bill Clinton on a handful of signature issues, notably climate change and "reinventing" government, and put a premium on being part of the public tableau whenever Clinton made an appearance.
Mondale, who met with Biden three times as he prepared for the job, said it takes time for a new vice president to find his "sweet spot" after some initial shuffling around, and that Biden appears to have found his niche, mixing the private counselor's role with a full slate of responsibilities for specific programs.
Stimulus
Biden wound up with oversight of the government's mammoth $787 billion stimulus plan after he wrote Obama a memo about how it should be run, and he's clearly relishing his role as the program's top cop. The vice president holds weekly conference calls with mayors, governors and others to press for wise use of the money, and he calls regular Cabinet meetings to keep the Washington end of the program on track, too. He's imposed a 24-hour rule for answering local officials' questions.
Copyright 2018 The Associated Press. All rights reserved. This material may not be published, broadcast, rewritten or redistributed. We strive to uphold our values for every story published.