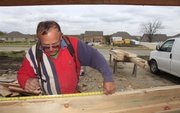 Lawrence's housing bubble perhaps just fizzled instead of popped.
According to a recently released report from the Douglas County appraiser, the office is now predicting that by the end of the year many homes in the county will have regained most of the value that they lost earlier in 2009.
That's a far cry from earlier predictions that home values in 2009 would end the year 7 percent to 8 percent below year-ago totals.
"The numbers did surprise me a bit," County Appraiser Steve Miles said of the rebound in local housing prices. "I was expecting that it wasn't going to look real pretty."
The revised estimates, which Miles stressed still are based on preliminary analyses, could have major implications for both taxpayers and government budget-makers.
When housing values were expected to be down about 8 percent, many homeowners would have been in line for a lower property tax bill in 2010 — unless local elected officials took the unpopular step of increasing property tax rates.
But with Miles now projecting that housing values will be "relatively flat" for 2010, city, county and school district leaders may not have nearly the budget shortfall that they were expecting when they begin building budgets next summer.
"I'm fairly confident now that we're not going to see the 7 to 8 percent declines in assessed valuation that I was fearing," said Douglas County Administrator Craig Weinaug. "But it is still going to be a challenging year next year."
That's because total assessed valuation — or in other words, the county's total tax base — still likely will decline some when the value is set for Jan. 1, 2010. Home values make up a large portion of the overall tax base, but values for commercial properties and personal property also play a role. When it is all added up, Weinaug said he still expects to see a decline of about 2 percent in the overall tax base. That would be the largest decline in the tax base in at least 20 years.
But a 2 percent decline would be a much easier pill for local governments to swallow. For example, a 2 percent drop in assessed valuation would mean the city of Lawrence would take in about $400,000 less in property taxes in 2010, assuming that the city's mill levy was not increased. If assessed value dropped by 8 percent, the shortfall would be about $1.5 million. The numbers for Douglas County and the school districts are more dramatic because they rely more heavily on property taxes than the city does.
"Certainly, if we don't see that type of decline it will be positive," Mayor Rob Chestnut said. "It may show that the economy is starting to stabilize, but I'll want to wait until the numbers are finalized."
Once the numbers are final, homeowners may still have a hard time believing them. National headlines have been declaring that housing values across the country have taken a beating. That was true to a degree in Lawrence, Miles said. He said during the summer, selling prices of homes indicated that housing values had fallen, on average, by 6.5 percent.
But for taxation purposes, the state requires the county appraiser to determine what the value of a home is on Jan. 1 each year. Miles said his data, which consist of selling prices of every home sold in the county, indicate that there has been a run-up in prices since July of this year.
Some private real estate experts agree.
"Our firm was kind of slow in August, but then in September it picked up, and October has been gangbusters so far," said Greg Moore, a private appraiser for Lawrence-based Moore Valuation.
Moore said he thought the local market had been helped significantly by the federal government's $8,000 first-time homebuyers' credit. Buyers eager to get that tax credit perhaps have been willing to pay more for homes in the last half of the year, he said. Lawrence may also have benefited from the tax credit — set to expire at the end of November — more than other communities because of the number of young people it has.
Doug Stephens, an owner of Lawrence-based Stephens Real Estate, said business from first-time homebuyers has been brisk, but he wasn't sure that meant home prices for the entire market had been rising.
"My heart hopes that we've reached a bottom, but the data I'm seeing doesn't allow me to say that yet," Stephens said.
Copyright 2018 The Lawrence Journal-World. All rights reserved. This material may not be published, broadcast, rewritten or redistributed. We strive to uphold our values for every story published.