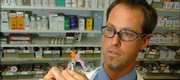 An outbreak of H1N1 Swine Flu was reported in Mexico in April 2009. By the end of May, it had spread across the U.S., with all 50 states reporting cases.
Douglas County health officials have scheduled several H1N1 flu immunization clinics.
The first will be from
2 p.m. to 6 p.m. Oct. 21 in Haskell Indian Nations University's Coffin Sports Complex, 155 Indian Ave.
The health department has scheduled four at the Douglas County 4-H Fairgrounds, 2120 Harper St.:
• 2 p.m. to 6 p.m. Oct. 28.
• 4 p.m. to 8 p.m. Oct. 29 and 30.
• 9 a.m. to 1 p.m. Oct. 31.
The department will provide the vaccine at no cost.
Kansas University also has scheduled swine flu immunization clinics for students, staff, faculty and retirees.
They will be from 10 a.m. to 2 p.m. every Friday from Oct. 31 through Dec. 4, except the Thanksgiving weekend.
The immunization clinics will move around. Here's the schedule: Oct. 30, Ambler Student Recreation Fitness Center; Nov. 6, Mrs. E's cafeteria in Lewis Hall; Nov. 13, Kansas Union ballroom; Nov. 20, Ambler Student Recreation Fitness Center; and Dec. 4, Kansas Union ballroom.
In addition, 25 Douglas County health care providers are in the process of becoming approved to provide the vaccine at their clinics or pharmacies.
They may charge an administration fee.
Copyright 2018 The Lawrence Journal-World. All rights reserved. This material may not be published, broadcast, rewritten or redistributed. We strive to uphold our values for every story published.