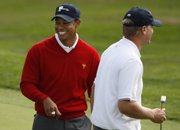 San Francisco — The United States took a 31⁄2-21⁄2 lead over the International team in the Presidents Cup, a good start Thursday that was tempered only in the final match when Justin Leonard missed a three-foot putt that led to a tie.
Tiger Woods and Steve Stricker were dominant from the start, playing bogey-free Thursday in the difficult alternate-shot format for a 6-and-4 victory over Geoff Ogilvy and 18-year-old Ryo Ishikawa. Phil Mickelson and Anthony Kim came to life late, closing with four straight birdies for a 3-and-2 victory over Mike Weir and Tim Clark.
The momentum switched to American red on the scoreboard late on the cloudy, cool afternoon at Harding Park. The final push figured to come from Leonard and Jim Furyk, who surged ahead of Retief Goosen and Y.E. Yang, 2-up with two holes to play.
Goosen holed a birdie putt on the 17th to send the match to the par-5 18th, and the South African missed the green to the right. Leonard hit a splendid fairway metal to the middle of the green, setting up what appeared to be a two-putt birdie.
Furyk lagged to three feet, the International team got up-and-down for birdie, and Goosen looked over at Furyk as if wondering why Leonard even needed to putt. Eventually, the South African realized the putt meant something.
Kenny Perry and Zach Johnson earned a point for the Americans, beating Angel Cabrera and Camilo Villegas 2-up. In the International team's victories, Ernie Els and Adam Scott beat Hunter Mahan and Sean O'Hair 2 and 1, and Vijay Singh and Robert Allenby edged Lucas Glover and Stewart Cink 1-up.
Today, the teams will play six better-ball matches.
GOLF
Garcia two back at Madrid
Madrid — Manuel Quiros of Spain shot a 10-under 62 Thursday to lead Sergio Garcia by two shots after the first round of the Madrid Masters.
Leach wins Mid-Amateur
Ocala, Fla. — Martha Stacy Leach, 47, won the U.S. Women's Mid-Amateur on Thursday to join sister Hollis Stacy as a U.S. Golf Association champion, beating former Georgia teammate Laura Coble 3 and 2 at Golden Hills Golf and Turf Club.
COLLEGE BASKETBALL
UCLA forward injured
Los Angeles — UCLA forward James Keefe will miss four to six weeks after injuring his left shoulder. Results of an MRI were negative, although there was some instability to the joint.
Keefe had surgery to repair a torn labrum in his left shoulder that forced him to miss the first 12 games of the 2007-08 season. The senior averaged 3.0 points and 3.4 rebounds last season.
The Bruins open the season on Nov. 16 against Cal State Fullerton.
Illinois' Jordan mulls return
Champaign, Ill. — Four months after he hung up his Air Jordans at Illinois, guard Jeff Jordan is talking to coaches about coming back. Michael Jordan's oldest son left the team in June after playing for two seasons. He said then that he wanted to focus on school.
COLLEGE FOOTBALL
Still no decision on Tebow
Gainesville, Fla. — Florida coach Urban Meyer says quarterback Tim Tebow had his best practice of the week Thursday, but the top-ranked Gators still aren't sure the Heisman Trophy winner will be cleared to play against No. 4 LSU. Meyer says team doctors want to see how Tebow reacts to the flight from Gainesville to Baton Rouge today, along with other things, before clearing him to play Saturday night in the showdown between unbeaten Southeastern Conference teams.
NFL
Ratings highest in 20 years
New York — NFL ratings are at their highest in 20 years. Through the first four weeks of the season, games are drawing their best average viewership since 1989 at 17.4 million, up 14 percent from the same point in 2008.
Stafford misses practice
Allen Park, Mich. — Matthew Stafford and the Detroit Lions are being coy about the quarterback's injured right knee and his status. Stafford on Thursday missed a second straight practice.
COLLEGE BASEBALL
NCAA settles lawsuit
Toledo, Ohio — The NCAA has settled a lawsuit with a former Oklahoma State pitcher who sued after he was ruled ineligible for using legal advisers in contract negotiations with a major-league team. Andrew Oliver sued the NCAA for damages after it ruled he violated a ban on using the advisers after he was drafted coming out of high school.
OLYMPICS
Medal decision delayed
Copenhagen — Marion Jones' relay teammates will learn by Dec. 18 whether they can keep their medals from the 2000 Sydney Olympics. The International Olympic Committee had hoped the Court of Arbitration for Sport would rule this month.
Copyright 2018 The Associated Press. All rights reserved. This material may not be published, broadcast, rewritten or redistributed. We strive to uphold our values for every story published.