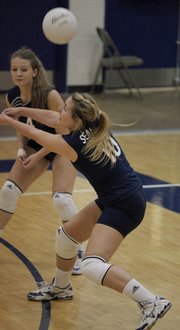 As far as Senior Nights go, this one began about as well as anyone at Bishop Seabury Academy could have hoped it would.
Unfortunately, the rest of the night did not go quite as well, and the Seabury volleyball team lost to Midland Adventist (22-25, 25-14 and 25-16) and Metro Academy (25-8 and 25-9) in a triangular that served as the final home matches for seniors Calli Noller and Jamie Fischer.
Despite losing four of the five games they played, starting the night off with a victory was a thrill those two won't soon forget.
"I thought it was really cool how everyone played as hard as they could to send us out on a good note," Noller said. "It was really exciting to win that first game. I just wish we could have won the match."
Added Fischer: "In that first game, everyone was pretty excited and pumped up. But then our motivation just slipped, and we stopped trying as hard."
During the next four games, the Seahawks were outscored 100-47. The two losses dropped Seabury to 5-24-1 on the season. But when it was all over, facts and figures did not matter nearly as much as fond memories.
Noller and Fischer played in the Seabury Academy gymnasium for six years. With Tuesday representing the final time either would compete in the gym for her school, past memories came roaring back.
Noller pointed to a championship she remembered winning in seventh grade as her most memorable moment in the gym, but made sure to point out that she has enjoyed her senior year immensely.
"It's been a lot of fun to be a leader because I remember being young and looking up to the other leaders," Noller said.
Fischer's best memories came via bonding moments on the bench during her ninth-grade season.
"We were the young girls on the team, so we didn't play a lot," she said. "But it was a lot of fun just being on the bench and being a part of the team."
Prior to their final match of the night Tuesday, Noller and Fischer were honored with a small ceremony that included balloons, flowers and kind words from Seabury athletic director Eric Nelson. While emotions ran high during the pregame recognition for both players, they weren't the only ones feeling sentimental on Tuesday night.
"They've both come such a long way in the two years that I've had them and they've worked extremely hard and done everything we've asked," Seabury coach Chrissy Leuty said. "I've definitely grown pretty fond of both of them. You can really tell they care and they give everything they've got all the time."
Tuesday, that might have been enough in the opening match, had it not been for a batch of nerves.
"I think they were both a little more nervous because they wanted so badly to perform well on Senior Night," Leuty said.
As for the rest of the Seahawks, they, like the team overall, had their ups and downs on Tuesday. Charlotte Burch, Angela Thomas and Jessica Babcock all had solid moments at the net and Alyson Oliver took another step forward in her quest to become Fischer's replacement next season.
In the end, though, the night belonged to the seniors, who gave way to substitutes with Seabury trailing 24-7 in the final game. As they left the floor for the final time, the Seabury crowd roared with appreciation.
"This night is just surreal to me," Fischer said. "I've seen it so many times before, and I never thought I'd actually be here."
Noller, Fischer and the rest of the Seahawks will play again Tuesday at Crest Academy, before moving on to regionals the following Tuesday.
Copyright 2018 The Lawrence Journal-World. All rights reserved. This material may not be published, broadcast, rewritten or redistributed. We strive to uphold our values for every story published.