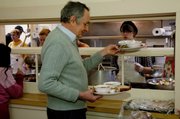 Albany, N.Y. — Older Americans who were raised on stories of the Great Depression and acquired lifelong habits of thrift now find themselves crowding soup kitchens and food pantries in greater numbers for the first time after seeing retirement funds, second jobs and nest eggs wiped out by recession.
"What we see in line is lots of gray hair, lots of walkers," said Marti Forman, CEO of The Cooperative Feeding Program in Fort Lauderdale, Fla.
The help is crucial for many fixed-income seniors, who can't always keep up with rising food prices.
"It's a lifeline. It just means that you can function," said Ronald Shewchuk of Ithaca, N.Y. "Otherwise we would have to sell our house. I don't know what we would do. Go to an old age home."
The number of seniors living alone who seek help from food pantries in the U.S. increased 81 percent to 408,000 in 2008, compared to 225,000 in 2006, according to the U.S. Department of Agriculture. Overall, 4.7 million households used American food pantries in 2008, compared to about 3.7 million in 2006.
"Seniors thought they were OK, but they're not OK," said Virginia Skinner, director of Development at The Association of Arizona Food Banks in Phoenix, citing the downturn in the area's housing market.
Catholic Charities USA, which has 170 agencies across the country helping the needy, issued a 2009 third-quarter report that found a 54 percent increase in requests for food and services from seniors nationwide compared to the same period last year.
Despite the increased need, it can be difficult for some older people to come forward and seek help.
"They're of a generation that feels they took care of themselves, and now in these desperate straits they don't want to acknowledge it," said Catholic Charities spokesman Roger Conner. "With seniors and retirees — people that were planning for that period of their life — they are often very proud and very private, and they want no one to know of the difficulties they might be experiencing."
Shewchuk, a 72-year-old retired technician, said he's been struggling to pay his bills and keep up with rising food costs. He said he and his wife Helen, 75, never needed charity before and used to volunteer at their local soup kitchen. This year, they started using it five days a week and getting assistance from food banks and the state. They have no children.
"We just have Social Security and a small pension, and we just can't make it with the mortgage payments and the gas and electric and so forth," Shewchuk said. "It's just draining our resources."
Older people also have the disappointment of no cost-of-living increase in Social Security checks this year.
"Seniors were hit with the decline in the stock market," said Mark Dunlea, executive director of the Hunger Action Network of New York State. "It's unsettling when you lose a lot of your investment."
The New York City Coalition Against Hunger released a report on the city's soup kitchens and food pantries that found that 68 percent of responding agencies were seeing an increase in senior citizens.
Copyright 2018 The Associated Press. All rights reserved. This material may not be published, broadcast, rewritten or redistributed. We strive to uphold our values for every story published.