Justina George was a bit antsy, and so were her Haskell Indian Nations University teammates.
"I WAS getting nervous," George said, "but we knew we were going to win."
Haskell came close to blowing a 27-point lead, yet hung on to clip Ottawa, 73-65, in women's basketball Thursday night at Coffin Complex.
The Fightin' Indians led, 62-35, with about nine minutes remaining, and coach Phil Homeratha figured it was time to look at some of his reserves.
"I'm 14 players deep, and I'm trying to keep them all happy," Homeratha said.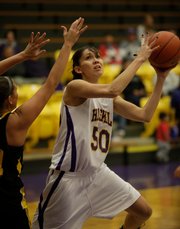 Except the reserves proceeded to make Homeratha unhappy, and, with about four minutes remaining, he had to send his starters back in.
"I subbed too soon," the veteran HINU coach said. "I wanted to get them some playing time, but things just went south. We had bad chemistry out there."
When the starters were in, however, the chemistry was explosive, and George was the catalyst. The 5-foot-7 senior from Ramah, N.M., was on top of her game with 19 points, eight steals and six assists.
Haskell forced 29 Ottawa turnovers, and 18 of them were thefts as the pesky Indians swarmed the Braves all over the floor.
"When we don't press, we're not very good," Homeratha said.
Haskell needed everything it could squeeze out of the press in the first half after Maria Parker, the Tribe's second-leading scorer behind George, had to sit down with two fouls after playing just four minutes.
With Parker back to start the second half, the Indians quickly expanded their 32-21 lead, outscoring the Braves, 16-3, in the first 41⁄2 minutes.
And the blitz continued until the bulge reached 27. Then the reserves came in, and Ottawa finally found the range.
"They spread out," Homeratha said, "and started shooting threes."
The Braves unloaded 30 shots from beyond the arc and hit 11 of them, seven in the last nine minutes.
In the end, however, Haskell ran its record to 8-2 and knocked off Ottawa (1-7) for the first time in four meetings between the two schools.
Ranked No. 25 in the NAIA Div. II preseason poll, the Indians are likely to move up the ladder when the first regular-season poll is released next week.
"This is one of the best teams I've had," Homeratha said. "It's fun for me because we're beating teams we've never beaten before."
Haskell will entertain McPherson at 5:30 p.m. Saturday.
Copyright 2018 The Lawrence Journal-World. All rights reserved. This material may not be published, broadcast, rewritten or redistributed. We strive to uphold our values for every story published.