Riyadh, Saudi Arabia — Increasing numbers of English-language Web sites are spreading al-Qaida's message to Muslims in the West.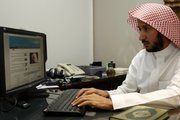 They translate writings and sermons once largely out of reach of English readers and often feature charismatic clerics like Anwar al-Awlaki, who exchanged dozens of e-mails with the Army psychiatrist accused of the Fort Hood shootings.
The U.S.-born al-Awlaki has been an inspiration to several militants arrested in the United States and Canada in recent years, with his Web-based sermons often turning up on their computers.
"The point is you don't have to be an official part of al-Qaida to spread hatred and sectarian views," said Evan Kohlmann, a senior investigator for the New York-based NEFA Foundation, which researches Islamic militants.
"If you look at the most influential documents in terms of homegrown terrorism cases, it's not training manuals on building bombs," Kohlmann said. "The most influential documents are the ones that are written by theological advisers, some of whom are not even official al-Qaida members."
Most of the radical Islamic sites are not run or directed by al-Qaida, but they provide a powerful tool for recruiting sympathizers to its cause of jihad, or holy war, against the United States, experts who track the activity said.
The number of English-language sites sympathetic to al-Qaida has risen from about 30 seven years ago to more than 200 recently, said Abdulmanam Almushawah, head of a Saudi government program called Assakeena, which works to combat militant Islamic Web sites.
In contrast, Arabic-language radical sites have dropped to around 50, down from 1,000 seven years ago, because of efforts by governments around the world to shut them down, he said.
Al-Qaida has long tried to reach a Western audience. Videotaped messages from its leader, Osama bin Laden, and his deputy Ayman al-Zawahri usually have English subtitles. But translations of writings and sermons that form the theological grounding for al-Qaida's ideology, along with preachers like al-Awlaki, mostly eliminate the language barrier.
Al-Awlaki's sermons have turned up on the computers of nearly every homegrown terror suspect arrested in the United States, Kohlmann said.
Members of a group of Canadian Muslims arrested in 2006 for allegedly forming a training camp and plotting bombing attacks in Toronto listened to his online calls for jihad, according to the case against them in court. According to prosecutors, an al-Awlaki sermon on jihad was among the numerous materials — including videos of beheadings — found on the computers of five men convicted in December of plotting attacks on the Fort Dix military base in New Jersey.
On his Web site and in widely circulated lectures, the 38-year-old al-Awlaki, now in hiding in Yemen, often calls on Muslims to fight against the United States, accusing it of waging war on Islam in Iraq and Afghanistan.
Nidal Hasan, who has been charged in the Fort Hood shootings, contacted al-Awlaki nearly a year ago. In an interview published in The Washington Post, al-Awlaki said he did not pressure Hasan to carry out the shooting, but after the attack, al-Awlaki praised him as a hero. U.S. investigators have said Hasan appears to have acted alone, not on orders from anyone, when he opened fire Nov. 5 at the Texas military base, killing 13.
U.S. intelligence officials declined to comment on the spread of English-language jihadist Web sites.
Copyright 2018 The Associated Press. All rights reserved. This material may not be published, broadcast, rewritten or redistributed. We strive to uphold our values for every story published.