Tonganoxie — Brooklyn Sickman sits in her mother's lap and asks for a piece of a Cheeto. And then another.
She also would like some "p-o-p." Her father, Jeff Sickman, spells that word. Brooklyn must stick to juices, so soft drinks are kept out of sight.
The thought that the 2-year-old Tonganoxie girl could see a bottle of pop, even a few weeks ago, would have been hard to imagine.
Since late September, Brooklyn has been at Children's Mercy Hospital in Kansas City, Mo., recovering from injuries she received when a 300-pound barn stall gate fell on her head.
There was "not one single bruise from her chin down," her mother, Teresa Sickman, said about the accident on Sept. 26 at the rural Tonganoxie home of family friends.
The impact caused breaks in Brooklyn's cheek bones, sinus cavity, right orbit around her eye, and the back of her head.
Soon after the accident, the news was grim. Brooklyn wouldn't survive, doctors said. Then they said she would survive, but her quality of life would be poor.
But Teresa knew her daughter.
"She's tough," Jeff said. "She's not a statistic."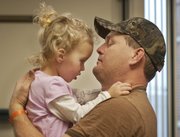 Road to recovery
Her recovery "has kind of been like the stock market — up down, up down," her father said.
Brooklyn's brain has not healed, but it's not worsening, Jeff said.
After spending weeks in the pediatric intensive care unit, Brooklyn moved to a therapy floor. Initially, doctors said she would have permanent memory loss and could grow up deaf and blind.
But each day, the curly blonde, who will celebrate her third birthday on Dec. 16, overcomes seemingly insurmountable odds.
She now remembers family members. Her daycare class sent a scrapbook full of classmates' photos. Teresa said she has pointed out friends.
For weeks, Brooklyn couldn't see. And while her eyesight was nearly nonexistent, her hearing was, by all accounts, strong. When a helicopter landed at the hospital, Brooklyn would cover her ears. Teresa could barely hear the aircraft.
"Her hearing has improved so much because she hasn't seen this whole entire time," Teresa said.
Breakthrough
Then, two weeks ago, Brooklyn began seeing again out of her left eye. It's possible she will eventually be able to see out of her right eye, which has a broken bone protruding into it.
Those Cheetos that Brooklyn loves must be monitored closely because the right side of Brooklyn's face doesn't really function, much like that of a person who has suffered from a stroke. Teresa and Jeff give Brooklyn small pieces of the snack and look over her mouth carefully as she's eating to make sure no pieces remain.
But she's graduated from a feeding tube to liquids to pureed foods. On Sunday, she ate an afternoon meal of eggs, pancakes, Tater Tots, pudding and green beans.
"Happy plate," Brooklyn said to her parents.
Some words still are works in progress. Brooklyn says "Yo," for example, when she wants yogurt.
As she relearns words, she also is relearning how to use her body. It's a struggle, but the determination is evident.
On Sunday, Brooklyn wanted to get into bed — or "tent," as she calls the hospital bed enclosed with a tentlike mesh covering. She crawled as best she could from one end to the other, her father nearby.
"Her body reacts quickly and she can't really control it," Teresa said.
The accident
The Sickmans were getting ready to leave their friends' farm in rural Tonganoxie when Brooklyn asked her mother whether she could join her brothers playing in a barn.
Teresa said the barn was full of sawdust and to move the sawdust more easily, a stall gate was unhinged and moved. Teresa said she's still not sure what exactly happened that day, but she thought Brooklyn climbed on the gate to see what her older brothers, Christian, 10, and Nick, 6, were doing.
Christian and Nick, as well as sister Saryn, 13, haven't been able to see much of Brooklyn since she's been in the hospital. But doctors plan to release Brooklyn before Thanksgiving, so next week Brooklyn could be home with her family.
During Brooklyn's stay in the hospital, community and family support have sustained the family.
About 300 people attended a recent benefit in Tonganoxie.
"Fifty percent of the people there I didn't even know," Teresa said. "Just wonderful people who came and know her story."
And the power of prayer has strengthened the family.
"We just prayed nonstop all day 24 hours a day, just didn't sleep, but prayed," she said. "There are prayer chains all around the United States."
Copyright 2018 The Lawrence Journal-World. All rights reserved. This material may not be published, broadcast, rewritten or redistributed. We strive to uphold our values for every story published.