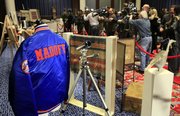 New York — They're the spoils of a feast that's over forever: Bernard Madoff's stuff on a government auction block.
Almost 200 items seized from the fallen financier's homes are being sold today in Manhattan, ranging from dishes, pens and stationery to decoy ducks, furs and a Rolex dubbed the "prisoner watch."
There's even a partly used pad of adhesive notes, personalized with "Bernard L. Madoff Investment Securities" — a reminder that Madoff's twisted financial activities were interrupted in action.
The Swiss chronograph watch was modeled on those made for World War II Allied airmen imprisoned in Germany, who used them to time prison patrols and plan a possible escape. This one graced the wrist of a 71-year-old inmate in a North Carolina prison, serving a 150-year sentence for defrauding investors for decades.
The goods to be auctioned were shown Friday at a preview at the Sheraton New York Hotel & Towers.
Madoff's personal effects were guarded by the U.S. marshals who seized his properties — a penthouse on Manhattan's Upper East Side and houses in Montauk, N.Y., and Palm Beach, Fla.
Scanning the items, auction observer Lark Mason said that despite Madoff's riches, he owned things "that you'd find at a fancy suburban garage sale" — though perhaps with a higher price tag.
Mason, who once worked for Sotheby's, said the artworks collected by Madoff and his wife, Ruth, were mostly reproductions and posters.
The Madoffs "were people without discernment, buying things for their superficial appeal but no real value — except for the gold and diamonds," said Mason, adding, "But that's so obvious. Just greed."
Texas-based auctioneer Gaston & Sheehan is running the Manhattan sale today, hoping to raise at least a half-million dollars to be divided among Madoff's victims. That's only a small dent in the tens of billions his Ponzi scheme cost them, wiping out many financially.
Next week, Madoff's yachts will hit the block in Florida. Madoff's apartment on East 64th Street in Manhattan is on the market for $9.9 million and the Florida home for $7.9 million; the Hamptons house sold last month for $9.41 million.
When he was sentenced in June, the punishment included the forfeiture of almost all of his wealth.
Copyright 2018 The Associated Press. All rights reserved. This material may not be published, broadcast, rewritten or redistributed. We strive to uphold our values for every story published.