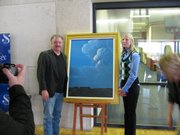 Topeka — The Kansas Lottery on Friday became the first lottery in the nation to give original works of art as a prize.
As part of a second-chance giveaway, nine original paintings by Lawrence artist Stan Herd were awarded.
The winning tickets were drawn from a drum by Kansas First Lady Stacy Parkinson.
The Herd paintings were of scenic byways in Kansas.
People who bought the Kansas Lottery's "Painted Byways" game, and lost, were able to mail in the tickets for a second-chance drawing. More than 17,000 tickets were mailed in.
The paintings were valued at $5,000 each.
Parkinson praised the scenic byways depicted by Herd as a "treasure."
Also at a lottery news conference, the 2009 official state holiday ornament was unveiled. Several of these will decorate the Kansas tree, located next to the National Christmas Tree in Washington, D.C.
The ornament was designed by Anita Wolgast and features Herd's Flint Hills Scenic Byway painting.
Copyright 2018 The Lawrence Journal-World. All rights reserved. This material may not be published, broadcast, rewritten or redistributed. We strive to uphold our values for every story published.