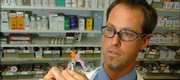 An outbreak of H1N1 Swine Flu was reported in Mexico in April 2009. By the end of May, it had spread across the U.S., with all 50 states reporting cases.
The Lawrence-Douglas County Health Department will have two community H1N1 clinics open to all priority groups.
The clinics will be from 9 a.m. to noon Saturday, Nov. 21, and 5:30 to 8 p.m. Thursday, Dec. 3. Both clinics will be at the Community Health Facility, 200 Maine.
The H1N1 priority groups have been reopened to include:
• All people 6 months through 24 years of age.
• Daily care providers and household members of children younger than 6
months of age.
• All pregnant women.
• Health care and emergency services personnel who have direct patient
contact.
• Adults ages 25-64 with chronic health conditions.
The Health Department encourages children under 10 who have received their first dose of the H1N1 vaccine, to receive their second booster immunization at the upcoming clinics. A period of one month must have passed, however, between the child's first and second doses.
Both the nasal mist and injectable vaccines will be available. As part of the national H1N1 vaccine program, vaccine will be provided at no charge.
People attending the clinic can go online to download a consent form that may be filled out ahead of time and brought to the clinic.
Due to vaccine availability, the clinics may be rescheduled. Visit the Health Department's Web site for updates to the current clinic schedule and the latest H1N1 information.
Copyright 2018 The Lawrence Journal-World. All rights reserved. This material may not be published, broadcast, rewritten or redistributed. We strive to uphold our values for every story published.